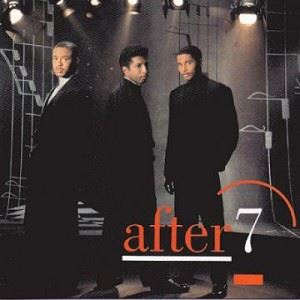 "Heat of the moment", "Can't Stop" and "Ready or Not" are just a few of the hits the Indianapolis trio gave us in the late 80's. The group consisting of two brothers, Melvin and Kevon Edmonds (who are also the brothers to Kenneth "Babyface" Edmonds) and Keith Mitchell (who was rumored to be their cousin but actually the cousin to L.A. Reid) made up the r&b group, After 7.
Signing to Virgin in 1989, they released their self-titled debut album and the Billboard# chart topper successfully went platinum. After 7 went on to record another celebrated hit off the 1991 soundtrack for the movie "Five Heartbeats". The song entitled "Nights like this" became another chart-topping hit; adding more great notoriety to the group's reputation. Their sophomore album "Take my time", released in 1992 also had success with singles like "Baby I'm for real" and "Kickin it". After 7 dropped another album in 1995, entitled "Reflections" but soon after the release the group split due to creative differences. This group is definitely a part of that era where music was "memorable" so…

GFM wants to know, where are you? You are missed.
If you got the info, then let us know!
contact [at] grownfolksmusic [dot] com
KayBee (@ItiZwutiTizZ)