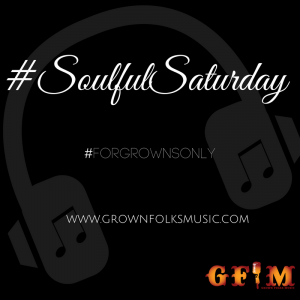 Kick off ya' shoes, relax, and unwind…It's #SoulfulSaturday
#SoulfulSaturday combines your ultimate classics from 'yesterday' and today from our highly favorable artists. Tracks ranging from elegance, sophistication, to joints that just speak to one's soul. This arranged diversity of tracks focus on meaning, not just lyrically, but an underlying message. Rather that message being about love, heartbreaks, and/or heartaches, we provide an appropriately "FEEL GOOD" presentation. #SoulfulSaturday was created in the summer of 2017 and has continued being loved by our #Growns, and we love you just for that. Continue to #vibe with us as we roll out the classics…#ForGrownsOnly. Enjoy "y'allselves" and unwind for these Soulful Saturdays.
#ForGrownsOnly –#RonnieDevoeBDayLove 11*17
Fellow New Edition and Bell Biv Devoe member Ronnie Devoe, has reached (well, accomplished) yet another milestone. Turning 50 this week, Devoe has a much longer way to go. With a tremendous amount of longevity, Ronnie along with other bandmates have set the stage for our newer generation of artists in today's arena. Telling several sources that is truly a "blessing" turning 50, Ronnie has and always will be an influence. From the staff of GFM, Happy Birthday Ronnie Devoe!
#SoulfulSaturday #80s
Gregory Abbott is getting better with time. This well-known, high in popularity, 80s classic "Shake You Down" has gained him musical notoriety, internationally. Gregory continues to perform his smooth R&B sound with his unique demeanor these days. Still shakin' it down, Gregory has also recorded his new single entitled "On & On". Get into the groove!
#80s #LyricLove — "Love Come Down"
Evelyn "Champagne" King scored a No.1 hit with this jam from her 1982 album Get Loose. Ms. King is one of our distinct female soul singers that'll make ya' cut a step with her wide range of classics. Get Grown!
#ForGrownsOnly — "Touch Me, Tease Me"
#Growns always expect a Feel Good vibe as we continue to present a dominant range of your classic, rhythmic, seduction jamz. Here, we have a throwback (No Thursday) from professional R&B heart-throb, Case featuring Mary J. Blige and legendary female hip-hop artist Foxy Brown. "Touch Me, Tease Me" became a breakout 90's R&B hit for the trio. Case has continued to express his passionate-fueled voice through various soulful tracks. True sangin'!
#SoulfulSaturday –"That's All I Ask Of You…"
Good Music, That's All…1/3 of the multi-platinum Tony! Toni! Tone!, Raphael Saadiq is a certified star in his own right. In creating stone cold HITS  for some of R&B's biggest names, he was very successful as a solo artist. The modern day "Quincy Jones" has a impeccable style of composition, arranging, and producing. Saadiq is filled with a dynamic voice range that continues to remain relevant today…Feels Good!
#SoulfulSaturday #80s
Enjoy this classic Soul Train performance from the sensational Anita Baker. A name one must put some 'respeck' on 365 days of the Year! Anita is a true Songtress, with a phenomenal vocal range that is distinctly and largely recognized to this day.
#GetGrown
#SoulfulSaturday #ICYMI : Jacquees ft Dej Loaf – At The Club
A #SoulfulSaturday exclusive from Atlanta native Jacquees featuring female lyricist Dej Loaf. Both of these artists have a distinct craft that makes them uniquely categorized within the Hip-Hop/R&B world. The two teamed up for this track in early 2017, releasing a video to coincide with smooth groove one can easily #vibe to.
#ForGrownsOnly #90sLyricLove
What must I say?
What must I do?
To show how much…
I think about freek'n you!
Get into the visuals, we're sure you will. Jodeci's magical ability to emphasize passion within their musical message has made them one of the top, well-respected R&B groups of this era.
Disclaimer : This is #ForGrownsOnly
#ForGrownsOnly #70s —
"Let's Do It Again" – The Staple Singers
"Let's do it in the mornin'
Sweet breeze in the summer time
Feeling your sweet face
All laid up next to mine
Sweet love in the midnight
Good sleep, come mornin' light
No worries 'bout nothin'
Just gettin' good, just gettin' good
Just gettin' good love…"
A #ForGrownsOnly Classic! No explanation needed…
#SoulfulSaturday — Slow Jamz : Kanye West ft. Jamie Foxx & Twista
Here's an ode' to our #Soulful icons as GFM continues to ensure our 'motivational vibe' #ForGrownsOnly. Here is a classic hip-hop groove from Kanye West, featuring smooth vocals from Jamie Foxx, and rap artist Twista rapidly spitting bars as he is best known to do. This track samples the classic Luther Vandross's 1981 hit  "A House Is Not a Home" ,
Something old, something new…Enjoy #Growns
#ForGrownsOnly — #UsherBDayLove
Spreading the #Grown #BDayLove with a track full of sensual seduction that'll still make ya'…well y'all know…Go somewhere nice and quiet, no interruptions, no rushing, and just #vibe. Happy Birthday Usher from the staff of Grown Folks Music. 
#SoulfulSaturday #ForGrownsOnly
October 14, 2017
"Now you say the juice seems so sour, it used to be so sweet…"
Platinum selling recording artist Karyn White continues to knock out with this track here. Becoming an "anthem" in it's own right, Karyn let it be known that she isn't any individual's superwoman. On the other hand, this jam became a Top 10 hit for Karyn in the 80's. A definite Superwoman in our book. #Growns enjoy this 'CLASSIC'…
#SoulfulSaturday #KarynWhiteBDayLove
October 14, 2017
#ForGrownsOnly — Howard Hewett
When you hear a track along these lines, and all you can do is say "mmm, mmm, mmm"…Education and sophistication all in one video. "This Love Is Forever" expresses a message of passion one can feel for another. A love that's real, a love that's forever. Howard still continues to deliver his dynamic, passionate #vibe, which has the capability of bringing one to their knees, still. Oh, so smooth…
"Somebody you can call when ya' body needs a fix…"
Off the 1998 album "Don't Get It Twisted", Pressha blends the smooth sounds of mystery, seduction, with a lil' bit of "sweet deceit". What one won't do, another individual sure will, which can be viewed from multiple standpoints (lol). "Splackavelli" has continued being #vibed to by our certified #Growns. Listen and enjoy as Pressha breaks you off somethin' proper like.
#SoulfulSaturday #ForGrownsOnly
S-P-L-A-C-K-A-V-E-L-L-I-E !!!
'Love Is An International Language'
The last of Michael's final videos before his early departure, he expresses his positive, worldly view of the international language of love. His final hit featured fellow R&B/Pop crooner Justin Timberlake of the former group *NSYNC. This hit was originally recorded in 1983, which came before Justin of course. In 2013, Justin re-created the track as a duet along side MJ. A jam that's guaranteed to get you up and on your feet, movin' and #vibin'. Enjoy…
#SoulfulSaturday #NowPlaying
"If It's Alright With You…"
#ForGrownsOnly
#SoulfulSaturday – H-Town "Knockin' The Boots"
"Good lovin', body rockin', knockin' boots all night long, yeah
Makin' love until we tire to the break of dawn
But oh, come on, come on and turn the lights down, and let me get on it, yeah
'Cause when I do, just me and you, it'll be so right
Give me some good love
Somebody rockin' knockin' da boots!"
#SoulfulSaturday #ForGrownsOnly
#LyricLove #ForGrownsOnly
From the 1998 Platinum selling album "Phoenix Rising", a true #ForGrownsOnly groove from the (then) newly "renovated" Temptations.
"I'll save you from the highest mountain (The highest mountain)
Paint the words across the sky (All across the sky)
(Ooh…ooh…ooh…)
I can't live without you (You know I can't)
I can love you through the day and all night, and all night (Please), and all night
Of all the riches in the world, you will forever be my girl…"
#SoulfulSaturday #NatinaBDayLove
GFM spreads the B~Day Love to the late Natina Reed (October 28, 1980 – October 26, 2012). A true all-around spirit, literally. Natina had several occupations, which all of them were of equal importance but she remains remembered as one of the members of the 90s/2000s R&B group 'Blaque'. In loving memory from GFM and all of our #Growns, continue to fly high Ms. Natina Reed.
October 28,2017
#ForGrownsOnly :"That's what LOVE makes one do…"
So sweet, so passionate, and oh so full of love. Before Kashif's early transition, he and GFM developed musical/family bond that will forever be apart of the GFM bylaws. Kashif is still a well respected, all around gifted composer. Speaking of composing…let's go back to '87 for a minute…feel this #Growns. Never forgotten!
Enjoy…
#SoulfulSaturday #ForGrownsOnly