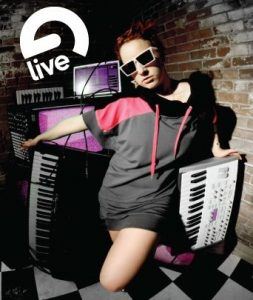 GFM fam we wanted to let you know about some great music from Singer/Songwriter/multi-instrumentalist Erin Barra and a wonderful opportunity to get a peek into the Ableton Live setup that is she currently utilizing on stage and in the studio.
Checkout "The Christmas Song" which is part of the 'Gift of Music' – free downloads of Christmas Songs from Soultracks here.
Also for all of the GFM fam in the NYC area on Friday December 10th, Erin will be the guest for a very special seminar at Tekserve-119 W. 23rd St. New York, NY 10011
From the press release
November 29th, 2010
For Immediate Release:
Contact- Fiona Bloom:fiona@thebloomeffect.com
Singer/Songwriter/multi-instrumentalist Erin Barra demos Ableton NYC users her Live setup
NYC- In a unique seminar geared towards Ableton Live http://www.ableton.com NYC Users- Multi-talented artist Erin Barra displays her 'One Woman Army'.
After several months of utilizing the software, honing her skills and working out the kinks- Barra has mastered the craft of songwriting in an innovative style electronically. Exploring her Live setup – eager users new and advanced will witness vocal processing, looping and performing a wide array of musical styles as well as remixing on the fly.
This demonstration/performance will be eye-opening both musically and educationally.
Where: Tekserve- 119 W. 23rd St. New York, NY 10011
When: Friday, December 10th- 2PM -Tekserve Seminar Room
Ableton User Group NYC
Register here:
This Event is Free.
About Erin Barra and Ableton – Using Ableton Live to manipulate multiple control surfaces in conjunction with a vintage Wurlitzer and Hohner Melodica. Erin Barra has taken the words singer/songwriter and administered some aurally and mind-altering treatments. Posted up on the constantly changing intersection of analog and digital, this fresh approach to live music starts on the stage and immediately takes you along for a ride on a fantastic voyage from the recording studio to the DJ booth and back again.
This novel reinterpretation of her material allows you to watch her produce, perform and arrange tracks LIVE: a groundbreaking approach to what people are referring to a Live Remix.
Erin Barra will be on tour through Feb with stops in the Rocky Mountains, California, WMC in Miami and SXSW.