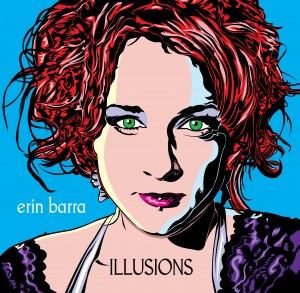 Listening to Illusions the new project from Erin Barra it becomes readily apparent why there's an oft-repeated theme from numerous musicians regarding how they detest labels(not record labels, but labels placed upon their music.) I'm not advancing that statement because I want to put words in Erin's mouth, the music speaks for itself… it is music that embraces a wide swath of what has come before, yet at the same time it is as current as your twitter feed.
A few weeks ago I had the pleasure of featuring Erin's take on the Genesis classic "That's All", what I enjoyed so much about that particular arrangement is a recurring theme throughout the album: Erin is unafraid to go outside of the predictable and create a new space. The music of Illusions are for those folks like myself who sometimes just want to get in the car and drive, no GPS, no preconceived stops or agendas, just a desire to enjoy a a new experience. Then what usually happens(at least with me) is the experience was so positive that once it's over you're making plans to do it again. Translation hit repeat.
Besides the aforementioned "That's All" several standout tracks from the album are the opener "Good Man", "Another Way" which has flourishes of classic late 80's era Bruce Hornsby, "Magician" a sure-fire rocker and "Soul Revolutions -5G Remix" which as the name implies it is an anthem, a call to arms that name checks and embodies the best of soul.
If you enjoy music that is equal parts imagination and craftsmanship and that is technicolor as opposed to black and white I highly recommend adding Illusions by Erin Barra to your collection today.
To purchase a copy of Illusions go here.

Ivan Orr is a multi-instrumentalist, composer, performer, and writer. A native of Charlottesville, Virginia Ivan was involved with the forming and nascent days of The Music Resource Center as its first Program Director. A graduate of Virginia Commonwealth University's Department of Music, Ivan currently resides in Richmond, VA where he maintains an active performance and production schedule while serving as the Music Editor for Grown Folks Music, a position he has held since 2010.