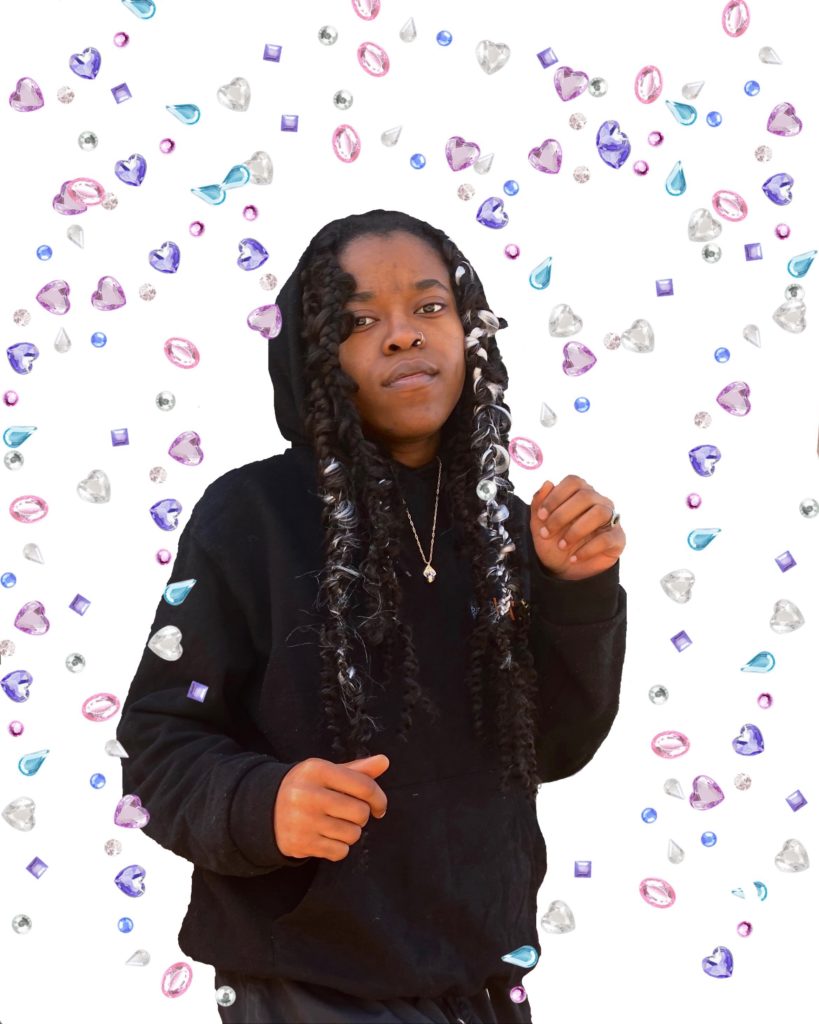 #Growns, Today marks the sophomore EP release of Truly didi from Franco-Cameroonian melodic emcee Dirtsa.Truly didi is described as "a letter serving as an ode to her heritage as well as a poised call to action to fight racial injustice as we strive for a greater humanity."
In listening to the set there are so many facets of life that we contend within display. In particular the track "Control" gets to the heart of the matter that we all can relate as we struggle to relate to the people that are particularly close to us.
Dirsta is working in the way that art works best: working it out. Working it out in your chosen medium of expression is what the art should be about. "Through her 5-track offering, she invites listeners on a journey through her past year of self-discovery while showcasing her deep understanding that change starts when one dismantles the head of the beast: our own fears and insecurities." Now that's working it out.
Speaking of working it out, we also get to see the visual representation of that with the official video for "10/Pouring" which was released today. Check out the vid below as well as the description of how it all came together.
Video Production Notes & Credits
This trip lasted 4 days, watch in hand. We were on a limited budget to shoot all visuals on our iPhones. Things weren't as easy to do as the renders make it seem but the challenge of it was awesome to tackle. While I'm working on a way to bring my sound forward independently, I'm also discovering a lot about myself. I encourage all of you seeing this to chase your dreams, persevere and hold on when it gets hard or feel like you can't push forward. I know nothing about shooting videos or directing a shoot. Nor does my sister. This was us trying. Thank you to everyone close to me supporting me, my choices and helping me bring my vision forward and thank you for watching. If you want to listen to more, peep the link below and enjoy the sound.
Listen to Dirtsa: https://open.spotify.com/artist/07vBW…
Credits:
'10' Audio Production: Louis Angeles, Gabi
'Pouring' Audio Production: Exil Beats
Video Production: Explore314
Socials:
Instagram: https://www.instagram.com/dirtsawithlove
Twitter: https://twitter.com/DirtsaMusic
TikTok: https://www.tiktok.com/@dirtsawithlove
Facebook: https://www.facebook.com/DirtsaMusic
About Dirtsa
Meet Dirtsa: Dirtsa is a 24-year-old artist originally from Douala, Cameroon – now residing in Toulouse, France. From writing, to singing, to rapping, to painting, to poetry, Dirtsa is the modern-day definition of a Renaissance person and cannot be boxed into one certain category. The way in which her pen and her mind collaborate is her focus of creation. Dirtsa's music represents a duty of story-telling and remembrance to not only her ancestors, but to all people who have fought and continue to fight for racial injustice all around the world. Over the course of 2021, Dirtsa made her mark on the music industry as a 1st place winner in France's PR Live competition, a publishing deal through Cutcraft Music Group (BIA, Chet faker, Izzy Bizu), a debut Summer Tour, and her debut EP Aletheia's Calling, which released in late-fall. Additionally, Dirtsa has been growing globally on the press-side with coverage from Lyrical Lemonade, Rap Nation, Ones to Watch, Early Rising, Kazi Magazine, Sheesh Media, R&B Nation, A1234, Fashionably Early, Discover Nü, as well as editorial support from Spotify's EQUAL & Douces Vibes playlists. 2022 is the mark of a new year for Didi, as she aims to continue the traction built in the year prior and take her artistry to new heights.
Ivan Orr is a multi-instrumentalist, composer, performer, and writer. A native of Charlottesville, Virginia Ivan was involved with the forming and nascent days of The Music Resource Center as its first Program Director. A graduate of Virginia Commonwealth University's Department of Music, Ivan currently resides in Richmond, VA where he maintains an active performance and production schedule while serving as the Music Editor for Grown Folks Music, a position he has held since 2010.