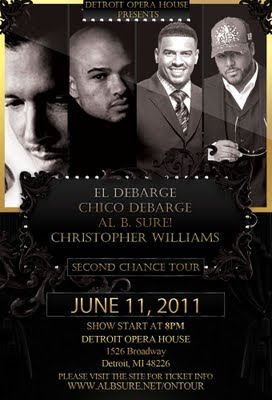 Second Chance Tour
El DeBarge with Al B. Sure!, Christopher Williams and Chico DeBarge
Saturday, June 11, 2011
Detroit Opera House
Detroit, Michigan
8:00 PM
Aside from urban stage plays we haven't seen much of Christopher Williams. However, when he kicked off the Second Chance Tour show he seemed to pick up right where he left off in the 90s–as a sex symbol–much to the delight of the female fans. Williams delivered a sexy performance that included moving about the audience to serenade the ladies and a bit of disrobing too. But, along with the persona he brought the voice. His vocals were clear, strong and appeared untouched by time. He especially shined during his rendition of the Teddy Pendergrass classic, "Come Go With Me" and a heartfelt version of Marvin Sapp's "Never Would Have Made It".
For the past year or so, Al B. Sure! has been performing in clubs and in his set he presents his music in a style that is laid back, includes humorous onstage banter, but seems to more prominently feature his background singers as they sing lead vocals and verses to the songs with Sure singing intermittently. Not so during this show. Sure gave a confident and animated performance fueled by the energy of the live band and the fans and the backup singers were just that: back up. Sure sang the full version of his songs and as expected, he ended his set with his 1988 mega hit, "Nite and Day", but with an unexpected horn version of the opening melody to the song that sparked an immediate feel-good reaction from the audience.
Chico DeBarge was dapperly dressed and had a smooth stage presence. His act had a soul/funk flavor, but he brought down the house when he invited his sister Bunny to sing the (heavily sampled) 80s DeBarge classic album track, "A Dream". It was a major treat for the audience.

The headliner, El DeBarge, came onto the stage with energy and exuberance. Almost immediately he hopped on the keyboard and dove straight into DeBarge classic hits, including "Stay With Me", which featured a sample of Notorious B.I.G.'s "One More Chance" mixed in with the live music. He even performed the Switch (the R&B band that featured DeBarge's brothers Bobby and Tommy) hit, "There'll Never Be". However, as the headlining performer, his set was surprisingly short. He sang very few of his solo songs and did not perform an encore number. El DeBarge has been on a difficult journey, with a stint in rehab as recent as six months ago, yet he appeared quite joyous on stage. He smiled brightly and danced about. His love for performing showed and the fans showed love and admiration in turn. A few even held up signs. While the audience was left wanting more, hopefully this show was a taste of what a re-relaunch from El DeBarge will be like.
If the promoters of this concert were using this show as a test to see how well this line up would be received by audiences and/or if the show can command larger venues, then it passed with flying colors. The combination of teenage crush heartthrobs and throwback jams played by a live band worked. The Second Chance Tour is a feel-good trip down memory lane. —KKC
www.eldebargemusic.com
www.myspace.com/chicodebarge
www.albsure.net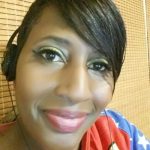 I have questions. Artists have answers.