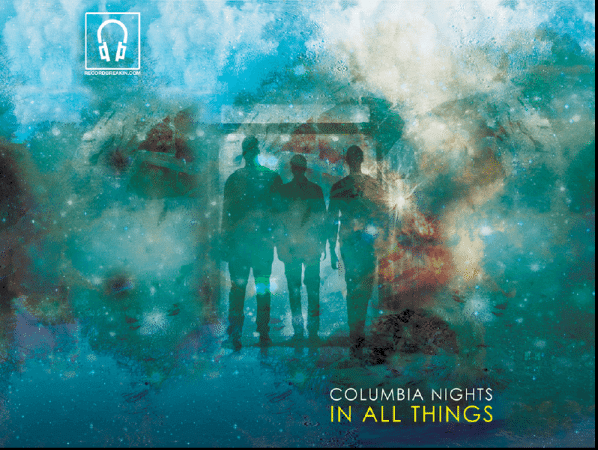 I had an experience recently, an experience that doesn't happen that often these days for a number reasons. One could perhaps blame it on time. Another reason that is used for not participating in these experiences is technology. I would submit though, that perhaps the real reason I don't(and perhaps others don't)have these experiences anymore is the artistry itself. You see, Columbia Nights the D.C. based trio made an album. No, an actual album. What do you mean kind sir? I'm glad you asked…
When I think of an album, any album what immediately comes to mind is cohesion. Many believe that if you assemble more than three or for songs and slap a title on it you have an album. No, an album is about togetherness. If we drew a parallel between a family photo album(which is by definition cohesive because of family) and an album of music we would find that many "albums" lack the continuity and cohesiveness of the family unit to the point where every page(song)contains pictures of total strangers(sound). This is not the case with In All Things
In All Things provides the listener with a proper setting of the table if you will from the first note. "Sphere" the sets opener and "Circle" serve as perfect bookends for what I would describe as a good time with some good friends. There is a compelling vibe throughout and the ten tracks on In All Things have been nurtured to the point where we as listeners feel a certain comfort because it sounds like Columbia Nights has taken the time and care to serve us their best. We shouldn't be surprised because John E. Daise, Jason Edwards and Hayling Price are not new to this. This trio has put in the time on stage opening for the likes of KING and THEESatisfaction as well as in the studio as In All Things is the follow-up to 2012's Dawn Dusk EP which is still in rotation in my sonic world.
A quote from the press release that resonates with this reviewer is "…We formed Columbia Nights to help advance the art we love, and to challenge listeners to demand more from the music they engage with." here, here! This is not fast food music. This is that good, good that has the nutrients that we need to help us grow musically as both listeners and creators. With compelling collaborations with a number of musicians and vocalists including Aaron "AB" Abernathy, B.Jamelle, and Diggs Duke, In All Things provides a space for the storyteller as well as a space for your imagination to choose its own adventure during the instrumental offerings. In my estimation In All Things from Columbia Nights is music that provides an equilibrium for the best of what once was with the best of what is, to make us aware and hopeful for not only what could, but what needs to and will be.
In All Things from Columbia Nights out now on Record Breakin'
iTunes link https://itunes.apple.com/us/album/in-all-things/id1043150847
A vinyl edition will be coming in the Spring!
Check out "Glide" from In All Things featuring Vaughn Octavia
Ivan Orr is a multi-instrumentalist, composer, performer, and writer. A native of Charlottesville, Virginia Ivan was involved with the forming and nascent days of The Music Resource Center as its first Program Director. A graduate of Virginia Commonwealth University's Department of Music, Ivan currently resides in Richmond, VA where he maintains an active performance and production schedule while serving as the Music Editor for Grown Folks Music, a position he has held since 2010.