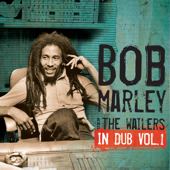 In commemoration of Bob Marley's 65th birthday(Feb. 6), Tuff Gong/Island/UMe has issued a new digital-only collection, In Dub Vol. 1.
From the press release:
In Dub Vol. 1 is the first in a series of collections of classic, rare and new dub excursions in the Bob Marley & The Wailers catalog. Available exclusively on iTunes, the debut set features 10 classic dub remixes (most previously unavailable on album) and a newly crafted dub of "Lively Up Your Dub," exclusive to this package, by foundation dub mix engineer Scientist.
You can download the album here.

Tracklisting:
* "Roots, Rock, Dub"
* "Is This Love Dub" (previously unavailable on album)
* "Forever Loving Jah Dub" (previously unavailable on album)
* "Lively Up Your Dub"
* "Three Little Birds Dub"
* "Crazy Baldhead Dub" (previously unavailable on album)
* "Waiting In Vain Dub" (previously unavailable on album)
* "Jamming Version"
* "One Love/People Get Ready Dub" (mix previously unavailable on album)
* "She's Gone Dub" (previously unavailable on album)
* "Smile Jamaica Version"