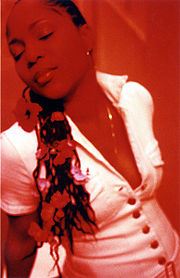 Nice interview and mini-performance from the beautiful, talented, underrated Abby Dobson.
From her bio:
Some singers need to be surrounded by a variety of equipment to move people, but this powerful artist simply needs an audience. She is one of those rare songbirds that effortlessly stimulate sensual, soulful and raw emotions using just her vocal instrument, a voice that you don't just hear…you feel it.
Having been influenced by the likes of legendary soul and jazz powerhouses such as Sarah Vaughn, Anita Baker, Donny Hathaway, Bill Withers, Whitney Houston and Aretha Franklin, Abby is not your typical artist who tries to woo a crowd with technical acrobatics or lyrical clichés, but instead captures a crowd using captivating melodies and emotionally charged words brought to life by the ache and honey in her voice. Devoted to her craft, Abby has studied classical voice since Junior High school. But it was the introduction to Billie Holiday and Hathaway that taught Abby how to draw people inside her in such a way that you feel her essence. Abby's music is heart music. "I want to touch people. I wanna make you feel." Drawing on a wealth of musical influences, from Mozart, Whitney Houston, Sarah Vaughn, Dolly Parton, The Carpenters, Pat Benatar, Kathleen Battle, Jessye Norman, Tracy Chapman, Barbara Streisand, Sweet Honey in the Rock, Allison Krauss & Union Station to Anita Baker and Bob Marley, Abby's sound is the alchemy of soul, folk, jazz, gospel, R&B, country, rock and pop, forging a gem that erases musical boundaries in its making. In fact, one could imagine fans of Anita Baker, Mary J. Blige, Sade, Jeff Buckley, Lizz Wright, Patty Griffin, John Legend, Martina McBride, Keisha Cole, Sheryl Crow, Cassandra Wilson, Norah Jones, Alicia Keys and Mindy Smith nodding together in appreciation at one of Abby's shows or after listening to her music. And, her songwriting is as emotional as it is soothing. In a word, Abby Dobson's music is mesmerizing. A lover of melody and words, Abby has also been deeply influenced by authors, poets and essayists, including Toni Morrison, Alice Walker, J. California Cooper, Emily Dickenson, James Baldwin, Patricia Williams, Kimberly Crenshaw and Margo Jefferson. By instinctively blending the musical herbs and spices that have influenced her (Jazz, Blues, Gospel, Pop, Country, Folk, classic R&B, Rock and Soul) into her own sonic stew, Abby affords old-school and new-school music lovers alike an opportunity to vibe together in harmony.