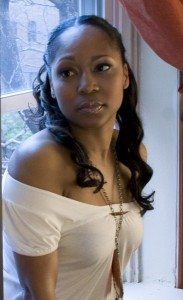 GFM fam we wanted to give you a sneak peek of the great new project from Abby Dobson which will be released October 5, 2010. The set features a unique approach to production and the talents of a bevy of great musicians. Special shout out to Fiona Bloom for putting us on to this project!
Project Description
"Sleeping Beauty: You Are the One You Have Been Waiting On", is a concept record loosely based on the popular fairytale. An analog girl in a digital world, Abby Dobson's "Sleeping Beauty" was recorded live to analog tape and features some of the best musicians in the country, including Shelton Garner (Easy Star All-Stars), Robert Glasper (Maxwell & Nicholas Payton), Nate Jones (Estelle), Skoota Warner (Santana), Wes Mingus (Glenn Lewis), Christian Ver Halen, Marvin Sewell (Lizz Wright & Cassandra Wilson), Gerald Menke, Raymond Angry (The Roots & Joss Stone), Lafayette Harris Jr. (Max Roach), Chris Rob (John Legend ), Keyon Harrold (Jay-Z), Daniel Sadownick (Raul Midon), Teodross Avery (Amy Winehouse), Maurice Brown (Wynton Marsalis), Jacques Schwarz-Bart (Maxwell), Lonnie Plaxico (Cassandra Wilson) and Kenny Muhammad (Angie Stone) to name a few.
Credits
released 05 October 2010
Sleeping Beauty: You Are the One You Have Been Waiting On – Volumood One
Abby Dobson – Singer, Songwriter, Producer, Background Vocals, Vocal Arrangement
Pete DeBoer – Recording & Mixing Engineer (Creed)
James "Bonzai" Caruso – Mixing Engineer (Alicia Keyes, Damian Marley)
Joe Gastwirt – Mastering

Ivan Orr is a multi-instrumentalist, composer, performer, and writer. A native of Charlottesville, Virginia Ivan was involved with the forming and nascent days of The Music Resource Center as its first Program Director. A graduate of Virginia Commonwealth University's Department of Music, Ivan currently resides in Richmond, VA where he maintains an active performance and production schedule while serving as the Music Editor for Grown Folks Music, a position he has held since 2010.