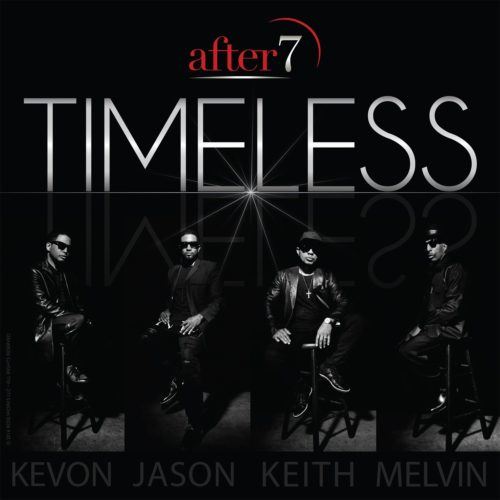 Timeless from After 7 (Kevon Edmonds, Jason Edmonds, Keith Mitchell and Melvin Edmonds)falls squarely into the realm of the #Grown and the reasons why truly have nothing to do with age. This has everything and I mean everything to do with class. Not class in the Bourgeoisie sense of the word, but more the notion that there's a time and place that requires a different level of participation and expectation that transcends all space and time the current single ("Let Me Know" comes to mind). No, it is not lost on me that the moniker of this classic group is After 7 and that they've displayed this "class" of music that I am alluding to over the entire trajectory of their career.
In a landscape riddle with foamposite tennis shoes, baseball hats, t-shirts and jeans I believe that it is not only healthy but necessary to see a tuxedo come to market. I don't put the aforementioned accoutrements out here because I have a level of disdain for them, thus pitting what Timeless represents against what they represent. I just feel like I'm sure many others do that for all that activewear hanging out in your closet you need a great suit, or in this case a tuxedo for when you really get your #Grown on.
How did I arrive at this visceral reaction to Timeless you may or may not ask? It's quite simple… with tracks like "More Than Friends", "Too Late" and the outstanding Philly Soul cover of "Betch By Golly Wow" I was immediately struck by the elements, the materials that are contained herein. The production, the performances, the writing – all and I mean all topshelf. I must point out here that there's a difference, there are names that are popular and then there are names that are not only popular but associated with a certain level of quality. Timeless benefits from association with the latter symbolized by the touch of the likes of Daryl Simmons and Kenneth "Babyface" Edmonds but not only the work of these venerated master songwriters/producers but also the work of new names in the liner notes who bring that same touch of quality and class to the fore.
In particular, the work of Karl Antoine, Aaron Pettigrew and Tann Smith on the set closer "Home" bears witness to those of us who seek melodies that are expansive, a story that sits squarely in the universal and a respect for the craft of songwriting that shines through in every line that there is much hope for the future when the music is placed in hands and pens like these. I can't say for certain, but what I feel when I listen to Timeless is that it was designed for those that know and appreciate what this group and what this music represents. In other words I don't get the feeling that any gimmicks were employed to try and reach a certain group of people (who quite honestly have not reached the level of maturity yet to understand the quality that they're being presented with) that's not a knock as much as it is an honest observation that for some you can only grow to appreciate a certain quality through experience. So, yes what I'm saying is only the experienced need to apply to appreciate this project here.
Timeless from After 7 out now!
Ivan Orr is a multi-instrumentalist, composer, performer, and writer. A native of Charlottesville, Virginia Ivan was involved with the forming and nascent days of The Music Resource Center as its first Program Director. A graduate of Virginia Commonwealth University's Department of Music, Ivan currently resides in Richmond, VA where he maintains an active performance and production schedule while serving as the Music Editor for Grown Folks Music, a position he has held since 2010.