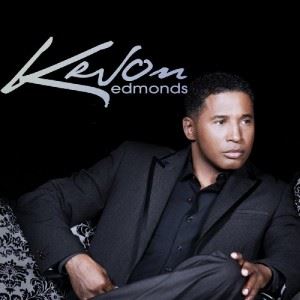 This is a reader contributed guest post from Tom Leo.
If you'd like to contribute a review, post or feature — click the Contribute tab and submit!

Growing up in a household with a family where music was seemingly always on in some fashion, there was never much doubt that Kevon Edmonds would follow in his older brothers' footsteps and pursue a career in music. Although overshadowed at times by his most famous brother Kenneth "Babyface" Edmonds, there is no denying that Kevon has put together a very solid career.
While pursuing an education at Indiana University in 1989, Kevon would link up with Keith Mitchell and brother Melvin to form the group After 7. The group would go on to release three successful albums before disbanding in 1997 to pursue solo careers. During the next few years, Kevon would create a name for himself with his first solo album "24/7," which eventually would be certified gold and produce the top 10 billboard hit of the same name. The album was packed with soulful slow and mid tempo jams that flowed beautifully from start to finish. However, as the years progressed, a follow up album never came and Kevon was basically unheard from.
Fast forward ten years, and we finally have that sophomore album from Kevon Edmonds…..if you can find it. In an attempt to purchase the album from Best Buy on release date, I was told the store didn't get any copies and neither did ten any of the other ten closest locations. Eventually, after striking out at Wal-Mart, I was able to find a copy of the album at Target of all places; that has never been the first store I look for a new album release. With a copy of the album finally in hand, the events of the day added to my anticipation.

Although much has changed in rhythm and blues over that period of time, lucky for his fans, he doesn't stray too far from his original formula for success on "Who Knew." At first glance, the album only has ten tracks, including an introduction and an interlude. This is very short in terms of today's standards, but I would quickly find this is because it is full of solid music without the filler.
The album begins with an introduction that is a recording of messages left on Kevon's answering machine from friends and family excited to hear he is making a return. This is followed by three consecutive very good mid tempo songs that set the tone for the rest of the album. It begins to shapes up to a more up-tempo feel than his previous solo effort where the highlight was the sparkling ballads. This growth is most evident on "April's Fool;" a real gem on the album. On the song, he croons about a female playing games with his mind and driving him crazy every time he gives himself to her. It has quickly become evident that vocally, he has not lost anything in his long layoff, as his unique yet beautiful voice shines.
Up next, the album takes on a darker tone, featuring heartbreak and deception, a subject not approached on his debut. On "Angels," he finds himself asking if the angels will forgive his woman after he finds her cheating on him. This is followed by "Hurts Too Much to Cry" where he finds himself longing for a previous relationship after he is alone. Although he didn't write all of the songs on the album, he certainly had a hand in choosing the appropriate writers to take the album in the right direction.
The listener is now greeted with an interlude which features more glowing messages left on Kevon's answering machine. One of these is left by fellow r&b singer Tyrese, who leaves the telling message "…there's this crazy rumor going around that you about to drop another album, listen, when I tell you that I'm excited, and that you about to bring r&b back…" This is just an example of how much Edmonds is respected in the industry and how much his presence means to r&b.
The final three songs on the album are the type of timeless slow jams we got used to on his debut album. This includes the first single from the album, "Oh," which is easily the best song on the album. You can just feel the soul and passion in his voice as he sings to his woman about the good love they have found and how it should never end. Listening, you might question if all of that time has really passed between albums; the man is clearly still in his prime.
It's obvious that Kevon had a plan when making this album. It flows very well from beginning to end while touching all of the highs and lows of romance. In essence, he could have very well titled the album "Who Knew" for those who doubted he could still make good music after this long. If that was the reason, consider any doubters proven wrong. Listen, Kevon Edmonds did not set out to change r&b in any fashion. What he did was give r&b fans a very solid album full of good music in a time when the genre seems to be moving away from what it once was.
Rating: 4/5
Ivan Orr is a multi-instrumentalist, composer, performer, and writer. A native of Charlottesville, Virginia Ivan was involved with the forming and nascent days of The Music Resource Center as its first Program Director. A graduate of Virginia Commonwealth University's Department of Music, Ivan currently resides in Richmond, VA where he maintains an active performance and production schedule while serving as the Music Editor for Grown Folks Music, a position he has held since 2010.