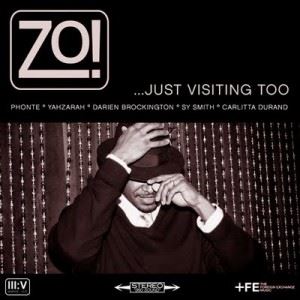 Just Visiting Too the new ep from ZO! is a must have for not only the connoisseur of classic R&B but for lover's of great music and musicianship. The 7 track ep features covers of tracks by Minnie Ripperton, The Jones Girls, Prince, Don Blackman, Bobby Caldwell, Quincy Jones and The Isley Brothers. Did I mention that it is available now as a free download? I'm not telling you what to get someone as a gift for the upcoming holiday season…but you should certainly put them on to this great collection of classic songs.
ZO! has compiled a stellar supporting cast comprised of Carlitta Durand, Darien Brockington, Phonte, Sy Smith, and Yahzarah. Each vocal feature has been cast with very careful consideration because each track sounds and feels tailor made for the artist. ZO! serves as the entire rhythm section [on 6 out of the 7 tracks] he is accompanied by Omar Hunter El on acoustic and electric guitars on The Isley Brothers cover of Highways Of My Life Pt. I & II.
Now this could be the part in the post where I would wax nostalgic about the fact that the music presented here represents roughly the years between 1973 and 1982 (I was but a wee lad…) but I'm not going to do that. I think you can draw your own conclusions as to why I would mention that particular moment in time. However, I would like to offer a few items for your consideration:
1. This is yet another outstanding musical offering from The Foreign Exchange family (notice a trend???).
2.This is the good kind (in regards to the great Louis Armstrong's summation of music).
3. This wonderful project is offered as free download…I'm going to pause right here for a moment and let that marinate.
If you love the good kind like I do then here's an opportunity for you: Let all your friends, family and colleagues who love the good kind (and even those who don't) know about ZO! – Just Visiting Too you can even send them the link…my treat. Special Rating: Download…now!

Ivan Orr is a multi-instrumentalist, composer, performer, and writer. A native of Charlottesville, Virginia Ivan was involved with the forming and nascent days of The Music Resource Center as its first Program Director. A graduate of Virginia Commonwealth University's Department of Music, Ivan currently resides in Richmond, VA where he maintains an active performance and production schedule while serving as the Music Editor for Grown Folks Music, a position he has held since 2010.