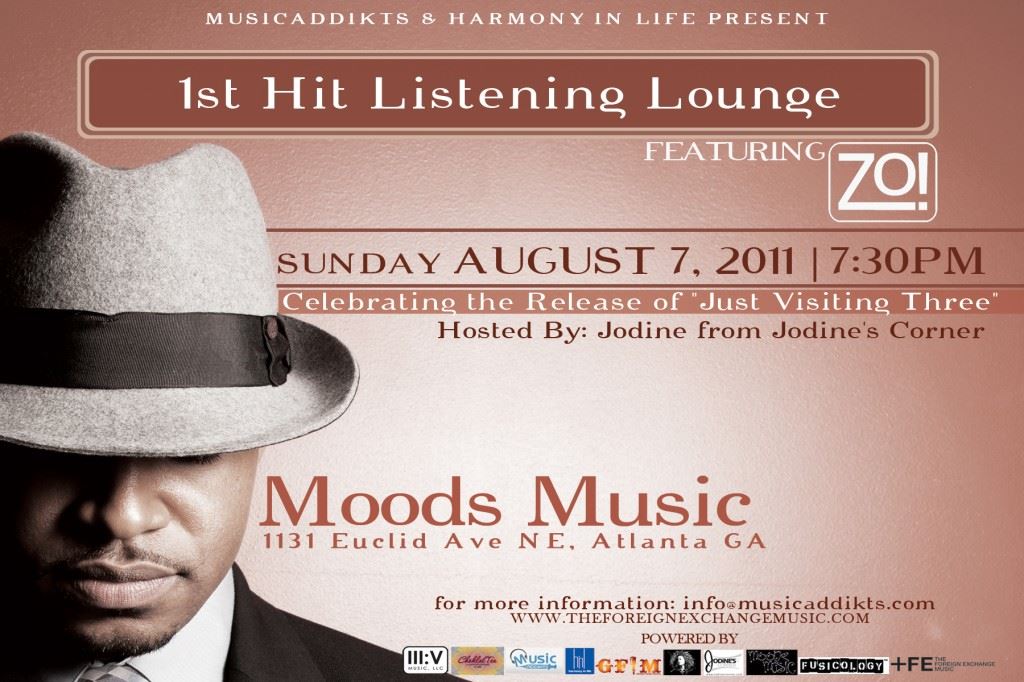 Ok all my Zo! fans!!!
If you couldn't get enough of Just Visiting Too, I know you're about to bust a church choir two step for the release of Just Visiting Three!!! Bringing his familiar brand of soul, Zo!'s long awaited release is out TODAY!!! But to sweeten the deal, he will also be making an appearance at the Music Addikts & Harmony In Life's 1st Hit Listening Lounge Sunday, August, 7th at 7:30.  This fun affair will be hosted by the lovely Jodine Dorce of Jodine's Corner and located at the one and only Mood's Music. Because seating will be limited, you may wanna give your late friends the deuces and get there early!!! Hey, ain't no need in both of ya'll being late and standing in the back! 🙂

Hope West is a music enthusiast and music photographer who has captured artists like B.B. King, Janet Jackson, Teddy Riley and many others.  A life long lover of music, Hope is a graduate of Full Sail University where she studied music engineering. She's also a proud "Florida Girl" born and raised in Ft. Lauderdale, Fl. and currently resides in Atlanta, GA as a "Georgia Peach". Hope is known for her creativity, sense of humor and quirky perfectionism. Artist(s) that make her freak out as a music fan: Sheila E., Jimmy Jam & Terry Lewis, Quincy Jones.