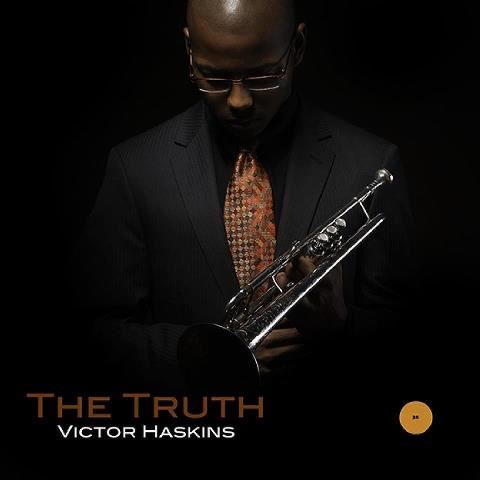 If we are honest with ourselves, many of us(I'm guilty)spend a fair amount of time commiserating with what I like to term a "loosely defined organization of online musical lamenters". Are you familiar with this group? Have they ever taken over one of your social feeds? Do you know the tell-tale signs of when you're dealing with a member of an "OOML"? I'm sure at times this blog has been guilty of the requisite language: "Back in my day…", "They sure don't make…", "There will never be…" and those are the positive comments. My point is that as much as some declare what music was, if there is to be music, equal if not more time should be devoted to what [great] there is and therein lies The Truth.
The Truth, the debut project from Richmond, VA based Trumpeter/Composer Victor Haskins, could not have a more apt title. This is music: thoughtful, passionate, skillful, contemplative, life itself is contained within the set. Isn't that what we would hope our music to be? The reflection of our lives? There's not one among us that's as one dimensional and reductive as some music would suggest, and I certainly don't buy the argument that escapism only exists in the realm of the simplistic. In listening to The Truth for this post, I often found myself transported to a place where the only consideration at the time was the music and its emotive effect on my psyche.
Composed entirely by Victor, the seven song set on The Truth contains all the drama and nuance of a great novel or film and as such you instant realize that Victor has something to say as opposed to just using a platform to say something. Victor has assembled an all-star cast of musicians and unlike some projects where the musicians are confined to a supporting role, the interplay contained herein is more of true collaboration. Luis Hernandez(Alto Saxophone), Steve Kessler(Piano/Keyboards), Tom Baldwin(Bass) and Tony Martucci(Drums) all bring their collective musical truths to the fore on the project and are all given ample opportunity to speak their peace as it were. The result is an incredibly rich musical conversation that as a listener I can only describe as being a fly on the wall at a dinner party whereby the participants are all well-versed in their craft and the banter is rich and lively and everything one would expect when peers match wits.
Clocking in right at 50 minutes The Truth in my opinion is a well balanced musical meal: each track is marinated and cooked to perfection and at the end of the meal you are quite satisfied and wondering when you might be able to partake again. Isn't that the ultimate these days? It's not the first play that counts at all, but it's the ability to engage someone to the point where they want to play the music again and again and that's The Truth.
Pickup a copy of Victor Haskins The Truth here from 32 Bar Records today!
P.S. Victor Haskins will be graduating in a few weeks from the venerable Virginia Commonwealth University Department of Music and has amassed quite the resume at a very young age. Equally adept at Classical and Jazz please do not believe what the mile a minute hyper commoditized and consumptive mainstream media would have you believe… they still make musicians of this caliber. Please take a moment to read Victor's bio which you can find here and please support this young artist on the rise.
Ivan Orr is a multi-instrumentalist, composer, performer, and writer. A native of Charlottesville, Virginia Ivan was involved with the forming and nascent days of The Music Resource Center as its first Program Director. A graduate of Virginia Commonwealth University's Department of Music, Ivan currently resides in Richmond, VA where he maintains an active performance and production schedule while serving as the Music Editor for Grown Folks Music, a position he has held since 2010.