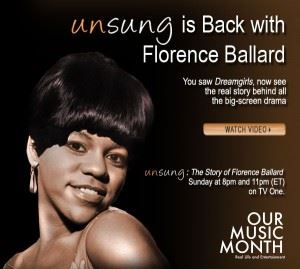 From superstardom to heart-wrenching setbacks, here are brand new clips of family and friends remembering the legendary Supremes singer Florence Ballard. Watch the entire "Unsung" special this June 28 at 8PM ET on TV ONE (www.tvoneonline.com).
Florence Glenda Ballard Chapman (June 30, 1943 – February 22, 1976), nicknamed "Flo" and "Blondie", was an American singer, the founder of the Hall of Fame Motown group The Supremes.
During their early years, members of The Supremes (originally called The Primettes) enjoyed a generally democratic distribution of leads on songs.
However, by 1966, Ballard and Mary Wilson had begun to feel ignored in the group as Motown President Berry Gordy, Jr. spotlighted Diana Ross's individual career. Consequent discontent led Ballard to chronic depression and alcoholism, factors that weighed heavily in Gordy's decision to permanently dismiss Ballard from The Supremes in July 1967. Her replacement was former Bluebelle Cindy Birdsong.

After an unsuccessful attempt at a solo career in the late 1960s, Ballard spent much of the last five years of her life in relative poverty, attempting to avoid media attention while suing the various parties involved in her dismissal from Motown. By the mid-1970s, it appeared that Ballard had regained control of her mental and emotional health – making public appearances, doing interviews and featured in newspaper articles, she purchased a new home after receiving a sizable settlement from attorneys she said had cheated her. Around this time, Ballard also began receiving treatment for her alcoholism and reconciled with estranged husband Tommy Chapman.
In 1976, Ballard died of a coronary thrombosis at the age of thirty-two. Her death has been called "one of rock's greatest tragedies".