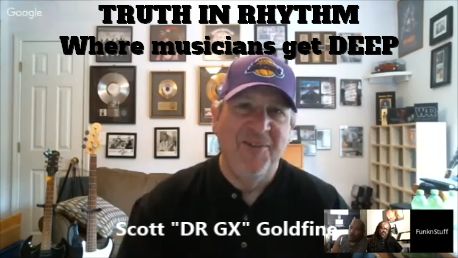 #Growns, this is one of those things that constantly happens to me… the universe comes in and well… Ok, so for years my GFM colleagues have referred to me as JJ (which is one of a few nicknames I've been given by them, love y'all) the JJ refers to an episode of Good Times where James Evans Jr. makes the distinction between stealing and "finding things".
I know it's somewhat hard (impossible) to find something that's not lost. Such is the case with this great interview series TRUTH IN RHYTHM that I "found" last week on YouTube. TRUTH IN RHYTHM is produced by musicologist and author Scott "Dr. GX" Goldfine. Now, here's that whole universe in action piece that I alluded to earlier.
I stumbled upon a later episode of TRUTH IN RHYTHM last Wednesday that featured one of my all-time favorite musicians Dexter Wansel. After I finished checking out the interview I immediately told our GFM Sensei(yes another nickname given by colleagues… fortunately not to me this time) that he had to take out some time to take in this great content. I also immediately knew that this is the type of content that our folks would love to engage with.
Well out of the blue this past Monday, lo and behold a message from Scott "Dr. GX" Goldfine hit the inbox inquiring about the possibility of posting TRUTH IN RHYTHM to this here site. I replied with the quickness the long/short of my reply being "It would be our pleasure to share this great content with our audience."
TRUTH IN RHYTHM is what we often talk about around here the "deep dive". What makes TRUTH IN RHYTHM even more compelling is that as a viewer you are presented with a primary source(the musicians themselves) as well as expert well-researched questioning from from Mr. Goldfine. There are a lot of folks out here with opinions and platforms but what I will simply say is that there is nothing like talking to and hearing from persons who were "in the room" when it was all going down.
So, where to begin? At the beginning of course! What better way to begin an interview series that deals in Soul, Funk, R&B etc., than to talk to a legendary architect of the sound – the one and only Chris Jasper. As a musician(and especially as a keyboard player) I would just like to state for the record the debt of gratitude that I feel has to be paid to Mr. Jasper. What many feel is new when it comes to approach, chord voicings, timbre etc., on the keyboard Chris Jasper was doing in the early 1970's in his work with the legendary Isley Brothers and then later on in the 80's with Isley, Jasper, Isley to his solo output up to present day.
So without any further adieu we present to you TRUTH IN RHYTHM Episode One featuring Chris Jasper! (Make sure to view all three parts below)
P.S. Check back with us as we will syndicate episodes of TRUTH IN RHYTHM weekly right here at GFM.
Keep up with TRUTH IN RHYTHM and Scott "Dr. GX" Goldfine around the web…
Website: funknstuff.net
Twitter: @funknstuff.net
Facebook: Funknstuff
YouTube: https://www.youtube.com/c/FunknstuffNet
Ivan Orr is a multi-instrumentalist, composer, performer, and writer. A native of Charlottesville, Virginia Ivan was involved with the forming and nascent days of The Music Resource Center as its first Program Director. A graduate of Virginia Commonwealth University's Department of Music, Ivan currently resides in Richmond, VA where he maintains an active performance and production schedule while serving as the Music Editor for Grown Folks Music, a position he has held since 2010.