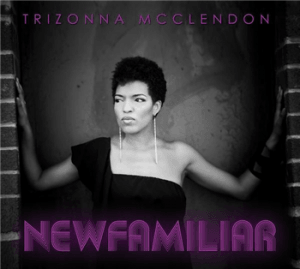 I was first introduced to the sound of Trizonna McClendon a few months ago when I had the opportunity to do a mini-review on her album teaser single "My Special". Then, as now I was pleasantly surprised with the comfort that the sound of Trizonna's voice elicits.
On New Familiar we find Trizonna in another comfortable place. This thirteen track set is the follow up to 2006's Overtones & Innuendos and what a set it is for your listening pleasure. You will find many musical genres and eras represented here: From 80's electro-funk to 70's country soul to shades of the classical art song(or 1930's Broadway) and of course the classy R&B that she has become known for. Trizonna has distilled what could best be described as a love for music. There's a slight difference when you love music as opposed to a particular genre,
it allows the artist to operate in a much more open place. Perhaps, (gatekeepers forbid) take a chance.
I must confess even though the collection is entitled New Familiar which I love, because I love dichotomy, somehow track twelve sums up how this reviewer feels about this project. On "This Is My Range" Trizonna explores the comparison of her instrument to that of Minnie Ripperton, and some accompanying criticism. This is done in the most subtle and beautiful manner both musically and lyrically. The reason that this song resonates so much with me is because I admire musicians who can declare: "This is me, this is what I do and for those who appreciate it thank you and to all others…" This is the comfort that I spoke of earlier, personified.
Several stand out tracks are: The previously reviewed "My Special", "New Familiar" and "Love Divine". My recommendation is that you try New Familiar on for size. Not to sound oh so cliché but there really is something for everyone.

Ivan Orr is a multi-instrumentalist, composer, performer, and writer. A native of Charlottesville, Virginia Ivan was involved with the forming and nascent days of The Music Resource Center as its first Program Director. A graduate of Virginia Commonwealth University's Department of Music, Ivan currently resides in Richmond, VA where he maintains an active performance and production schedule while serving as the Music Editor for Grown Folks Music, a position he has held since 2010.