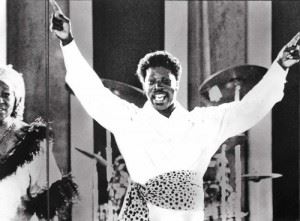 Way, way down in the jungle deep…
Legendary comedian, filmmaker, pioneering rapper & the self proclaimed "ghetto expressionist", Rudy Ray Moore, has died at the age of 81. Known for his 'xxx' routines, ego stroking and rhyming style, he was a fixture of the so-called 'Blaxploitation' era and influenced comedians and hip hop artists alike. Long before Eddie Murphy, Steve Harvey, Chris Rock, Def Comedy Jam etc., Dolemite was a guilty pleasure for myself and many others as we snuck around catching peeps of his flicks and listening to his albums. Our condolences go out to the Moore family.
Warning, he is raw as raw can be, and is NOT suitable for children….nor some adults.
WARNING: <** EXPLICIT CONTENT below**>

Who can forget the immortal "Signifying Monkey"??

Dolemite Live!
In his own words