Intro: Last week we dealt with getting your groove on. This week we deal with a slightly different (spiritual) groove but a groove nonetheless. How this week will differ slightly than the previous two week's entries is that the music highlighted this week will not be paired off in a comparison, but will be presented in a singular manner decade by decade. The reason for this slight alteration to this week's post is because I wanted to show decade by decade that this phenomenon is not new at all.
Honestly, if we had time to do a very in-depth study of the music we would realize that from the very beginning of gospel music this phenomenon has existed. This post by no means is a religious discussion, we are discussing the music and its intersection with popular culture. I would love to hear some of your thoughts on whether this phenomenon exists because popular music/culture influences these performers or does an actual separation even exist in the music aside from the message? Having witnessed many sides of this debate and even having been on the receiving end of ridicule (for playing a devil's instrument in church) I'm interested in hearing why you believe that as the music changes from generation to generation the ridicule remains in certain quarters?  The overarching message of the music has remained the same for centuries why are we continuing to have the same debate on the delivery?
This list in no way is meant to be exhaustive.
This week's topic: I Went to the Club and a Praise Broke Out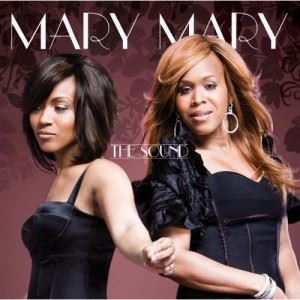 God In Me- Mary Mary feat. Kierra "Kiki" Sheard
The Message
Just like last week, the message is pretty clear with all of these songs…Jesus. So you can just copy this message throughout the post.
The Music

With production values that scream the latter half of the first decade of the 2000's (auto-tune, 808 snare fills, 808 tuned kicks, futuristic swirling synth sounds) this song was destined to be a hit. Who knew that at the time of this posting this song would have spent an incredible 55 weeks on the Billboard R&B charts peaking at #5 and still in the Top 15? As of this writing it is the second longest charting song of the year behind K'Jon's On The Ocean. It's hard enough for "pop" acts to stay relevant on the aforementioned charts over the course of a decade, the team of Erica, Tina and Warryn Campbell are ending the decade just like they began. Incredible.
The music and the methods of making and selling music have changed dramatically over the decade since Mary Mary's debut but one fact remains the same when it comes to Mary Mary: Longevity. There are not many songs that remain in the conversation like a Mary Mary song. Is it the music or the message or both?


Shackles-Mary Mary
The Music

Just like our last example this tune from Mary Mary just seems to fit right in with what was happening musically in late '99 early 2000. I guess maybe that would account for that whole "contemporary" labeling that they are associated with. Somehow the team just knows how to pull it off without it being a gimmick. Often, you will hear an artist's work across the decades and you can hear that they were going for a very specific sound and demographic. Not this group, it all seems quite genuine to the ear.

That Was Then…

Now I normally would not do this, but I thought it would be interesting for our conversation to put into perspective the difference between what and who was charting in early 2000 and the fact that Mary Mary is still charting in a big way in late 2009. Giving all respect to the deceased (R.I.P. Aaliyah) the following artists and songs charted the same week when "Shackles" peaked at #9 on the Billboard R&B charts.
1. He Wasn't Man Enough-Toni Braxton
2. Separated-Avant
3. I Wish-Carl Thomas
4. Maria Maria-Santanna feat. The Product G&B
5. I Wanna Know-Joe
6. Wobble Wobble-504 Boyz
7. Try Again-Aaliyah
8. Where I Wanna Be-Donnell Jones
9. Shackles(Praise You) Mary Mary
10. Big Pimpin-Jay-Z feat. UGK
Now I'm not going to get into some long drawn out tangent about "Where are they now?" but I would like to point out how few artists are even remotely in the same space they were a decade ago. Often this is a natural occurrence, because the music changes and tastes in music change, but it is interesting to document nonetheless.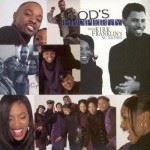 Stomp-God's Property w/Kirk Franklin feat. Cheryl "Salt" James
The Music

Could we possibly have a discussion about Contemporary Gospel Production and the like over the last twenty years and not discuss Kirk Franklin? Kirk Franklin had been interpolating Hip-Hop and Funk classics for years in his live concerts and recordings. This sampled reworking of the funk classic "One Nation Under A Groove" was in many ways revolutionary at the time (you can do that?). As with all these artists highlighted in this post there were numerous detractors. With an infectious hook and a declarative rap that was voiced by one of the most distinctive sounding voices in hip-hop, "Stomp" went on two propel the God's Property album to a #3 debut spot on the Billboard Charts in June of 1997.

It's Time-The Winans
The Music

Produced by Teddy Riley at the height of his "New Jack Swing" prowess, "It's Time" embodied the in sound of the new decade of the 1990's. Big swing beats, Teddy on the "yep, yep" and a rap break, you probably could have inserted anyone into this track and it would have been a hit at the time. But this song has the undeniable Winans sound which is first and foremost great lead singing and superb harmonies. Would you believe the same week that this song was #5 on the charts "Lift Every Voice And Sing" by Melba Moore and an all star cast of vocalists was #9 and some guy with genie pants was holding strong at #6 rapping over top of the Rick James opus de funk "Superfreak"? Crazy times.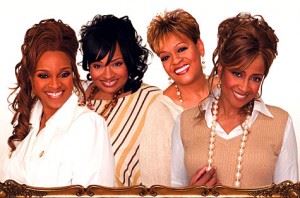 You Brought The Sunshine-The Clark Sisters
The Music
As Elbertina "Twinkie" Clark-Terrell has stated in interviews and in the TV One Unsung series the main riff in this song was inspired by the Stevie Wonder classic "Master Blaster" (Even before sampling became what we know today, there has always been some form of sampling. The difference is you learned the music and incorporated yourself instead of the sampler doing it for you. This is not a rail against sampling, I just wanted to point out that the practice of "sampling" or "re-imagining" music has been around in one form or another for hundreds of years, the way that it is accomplished has changed through technological advances.) "You Brought The Sunshine" is as funky as it wants to be. Released in 1983 (I wonder what other music was released in '83) it was a staple of R&B radio peaking at #16 on the charts and further solidified The Clark Sisters position as gospel superstars.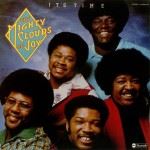 Mighty High-The Mighty Clouds of Joy
One of the first gospel quartets to incorporate a full rhythm section The Mighty Clouds of Joy were at the forefront of embracing the contemporary sound since their beginnings in Los Angeles in the mid-50's. Their 1976 smash hit "Mighty High" landed the group an appearance on Soul Train (the first for a gospel group) as well as opening act slots with Marvin Gaye, The Rolling Stones and Paul Simon. I'm sure someone reading thought Kirk Franklin was the first to take gospel that far…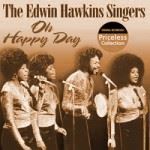 Oh Happy Day- The Edwin Hawkins Singers
40 years later this song still represents the seismic shift in gospel to me. It's sorta like there was everything before "Oh Happy Day" and then everything after. I just think that the importance of this song in defining what it truly means to "crossover" cannot be understated. I can vividly remember being told by one of music teachers in the late 1980's that his group was literally about to be  "put out" of the church that I grew up in for trying to sing this song in the early 1970's. My how times have changed.
In the early days of FM radio "Oh Happy Day" was added to playlists around San Francisco and later made it's way to a wider audience on the AM format in the Spring of 1969. Now that's how the times really have changed, a song organically gaining appeal by a DJ or Programmer deciding to add a song that they believe in…what a concept.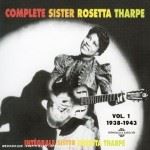 Clara Ward/Sister Rosetta Tharpe

I just wanted to add a little note about these two performers in the context that they were trailblazers in creating and performing gospel music for secular audiences. I would encourage everyone to read about the careers of Clara Ward and Sister Rosetta Tharpe and how what they were able to achieve and the friction that faced from purists paved the way for the artists we featured in this post.
Benediction

As we examined over 40 years of gospel music that "crossed over" one variable remained constant: the purist. There are purists of every musical genre known to man. But given the nature of the development of gospel from its blues roots does pure gospel exist or is it a matter of taste and comfort with the sounds from your respective generation? This is not a theological debate, this is a musical discussion.
I'd love to hear from you.
Next Week: Material Boys & Girls
Ivan Orr is a multi-instrumentalist, composer, performer, and writer. A native of Charlottesville, Virginia Ivan was involved with the forming and nascent days of The Music Resource Center as its first Program Director. A graduate of Virginia Commonwealth University's Department of Music, Ivan currently resides in Richmond, VA where he maintains an active performance and production schedule while serving as the Music Editor for Grown Folks Music, a position he has held since 2010.