We're VERY excited about the new album Congo Square
, dropping next week, June 9th! Be sure to check out her performance after the jump from last year's Pioneer Award Ceremony in Philly (from the Rhythm and Blues Foundation)– please support them, as well as a classic performance with Rick James and the Stone City Band!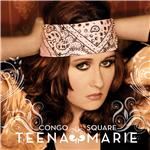 LOS ANGELES (Billboard) – A recent fan post on YouTube about Teena Marie says it all: "She still sings like she did 30 years ago."
Showing no sign of slowing down, the R&B funkstress displays her inimitable chops on her current single, "Can't Last a Day." Stationed at No. 55 on Billboard's Hot R&B/Hip-Hop Songs chart and No. 16 on Adult R&B, the song is the lead track from the June 9 release "Congo Square," Marie's Stax Records/Concord Music Group debut and 13th studio album.
Extolling what Marie describes as that "mystical, joined-through-God kind of love," the midtempo "Can't Last" features a duet with another noteworthy singer, Faith Evans.
"Of the younger ladies, she's the one I love most," Marie says. "I've always loved her vocal style. She reminds me of a younger me."
On "Congo Square," Marie pays tribute to artists who inspired her, ranging from Sarah Vaughan and Curtis Mayfield to Marvin Gaye and Billie Holiday. The album borrows its title from a section in New Orleans' French Quarter where slaves were allowed to wear their fancy clothes to dance and sing on Sundays.
Read the rest of this article.
Updated: Teena talks about 'Bridging the Gap' musically (via Singers Room)
Permalink
Official Website
Twitter

Permalink
Related Posts:
Teena Marie and Faith Evans – "Can't Last A Day"
Teena Marie "Cassanova Brown"/"If I Were A Bell" (Live)

Permalink
R.I.P. Rick James