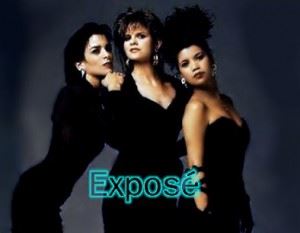 Expose', from their official bio:
After the tremendous response of their first two singles, "Point of No Return" and "Exposed To Love", it was clear that an entirely new era of dance music was about to spread around the world.
Some called it "The Miami Sound", others referred to it as Freestyle, 80's Dance, Dance/Pop.  We knew them as Exposé and one thing was for certain…music would never be the same again. Exposé consisted of Jeanette Jurado, Gioia Bruno, and Ann Curless.