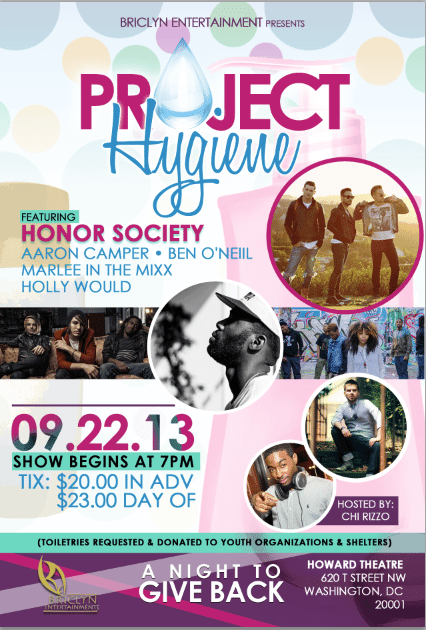 The gap between caring and compassion is closed by doing something. Twin sisters Anshay and Anshia Tull stand between that gap with outstretched arms consistently looking for ways to close it. One way has been the creation of Project Hygiene, a non-profit organization developed to combat bullying by increasing the awareness of health and wellness, as well as access to personal hygiene projects. The organization was launched in 2011 and partnered with various organizations in New York City, Atlanta, Philadelphia, Bowie, Maryland and Washington, D.C., the home of tomorrow night's "A Night to Give Back" at the famed Howard Theater.
Each Project Hygiene event is coupled with a drive to collect toiletries to be donated to a local youth organization and Sunday's event isn't any different as items collected with go to the Southeast Tennis and Learning Center of Washington, D.C. among other sites. Headlining the bill at The Howard is Honor Society, a pop/rock band and Aaron Camper, the electric R&B/pop performer. Also performing will be Ben O'Neill, Holly Would and Marlee in the Mixx. The show will be hosted by Chi Rizzo and music for the night will be handled by 12-year-old DJ Beauty and the Beatz.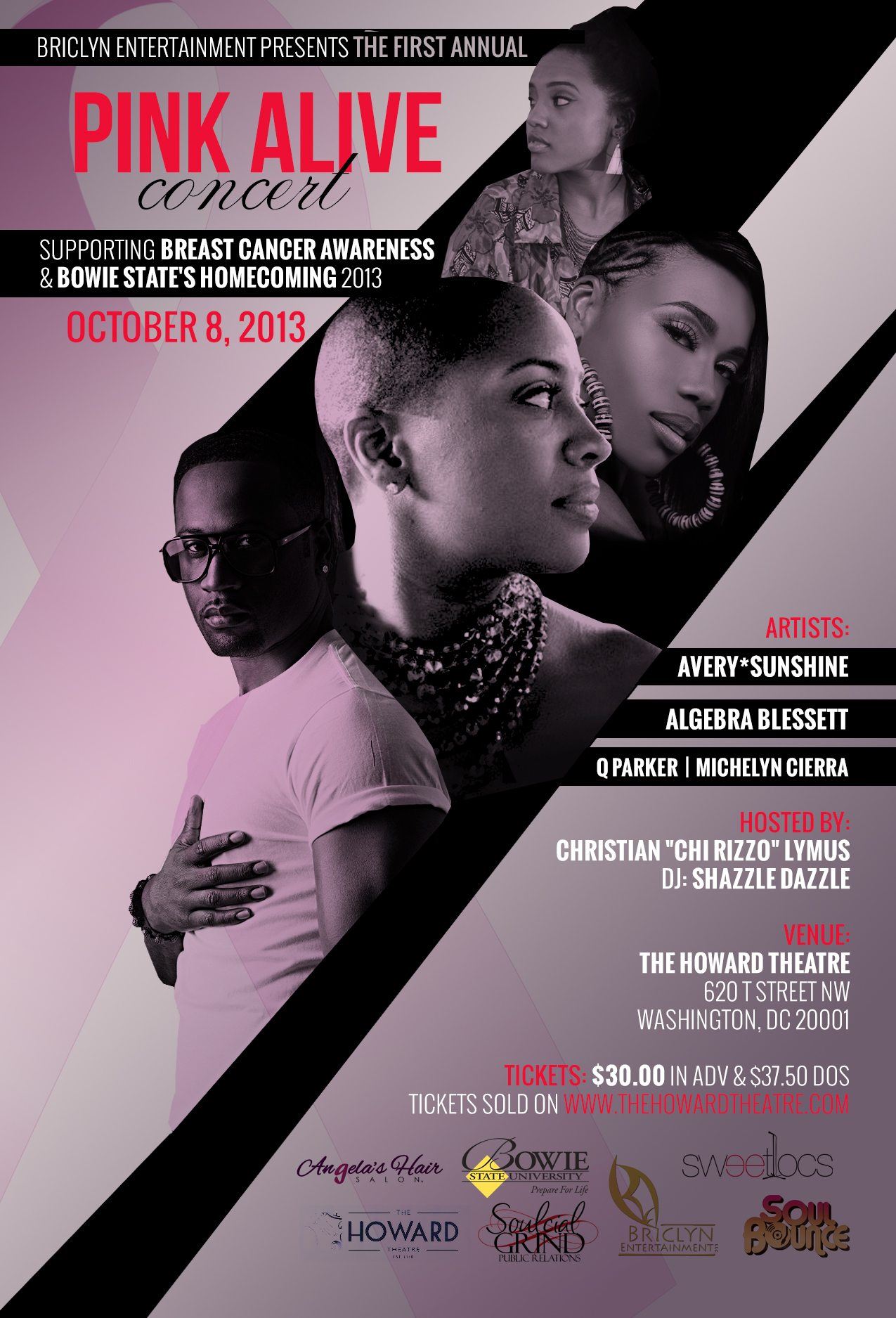 Personally experiencing the effects Breast Cancer has on its victims and families motivated Anshia into action; she's back at the Howard Theater on October 8th,as her company, Briclyn Entertainment, presents "Pink Alive", a concert benefitting Breast Cancer and her alma mater Bowie State University's homecoming. "Pink Alive" is an opportunity for Anshia and Briclyn to not only remember the lives lost to the illness, but celebrate those who continue to fight each day. Those like her aunts, one whose fight ended a few years ago and the other who beats the odds daily as the first African-American female police captain in Wilmington, Delaware. "Pink Alive" reminds us there's plenty of reason to celebrate, but also miles to go in research and support as we look to eradicate the illness that has affected millions. Among the sponsors for the evening will be Angela's Hair Salon, who will donate wigs to The Wig Exchange, a Westchester, New York based organization that provides high-quality wigs and various means of support to women undergoing chemotherapy.
An event of this magnitude needed a lineup to match the vastnessof the cause and Briclyn Entertainment put together a cast worthy of the stage; Avery*Sunshine will grace the stage with her dazzling voice and personality, as well the soulful Algebra Blessett and Breast Cancer advocate Q. Parker of 112. Joining that trio will be newcomer and Washington, D.C. native Michelyn Cierra. The events are a homecoming for the Tulls, who though they've moved on to Atlanta and New York, were born and bred on Maryland's Eastern Shore and roots spread all throughout the DMV area.
For additional information on Project Hygiene and a list of items suggested for donation, please visit the organizations' Facebook page (Facebook.com/ProjectHygiene), Briclyn Entertainment's homepage (www.briclynent.net) or email the team (info@briclynent.net). Briclyn's Homepage is also where you can find additional information for the 1st Annual Pink Alive concert and tickets for both events can be purchased at www.TheHowardTheatre.com.