#SoulfulSaturday digs into a Classic Holiday album from a well-respected voice in #SOUL 🎄🎶!
#SoulfulSaturday pays homage to the first Christmas album from #Soul balladeer Luther Vandross. 23 years later, tracks are still heavily in Holiday rotation. Becoming a certified platinum release, the album received mainstream airplay across radios and households during the holiday season. An essential Holiday classic is upon us, here. Enjoy the #GFMChristmas fave.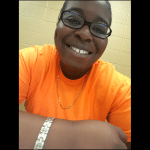 Mattie Brown is a Music Journalist, specializing in reporting and producing content for the R&B genre. Residing in Decatur, GA she obtained her A.A in Journalism from Georgia State University-Perimeter College. Mattie has always had a passion for writing, designing and editing. While pursuing her B.A at Clayton State University, her musical passion took her to new heights. "My love for R&B has kind of outweighed everything", she states. She has truly taken her craft and used it to her full advantage. Mattie joined the team of Grown Folks Music in the summer of 2017 as their Music Journalist and is continuing to pursue her education.