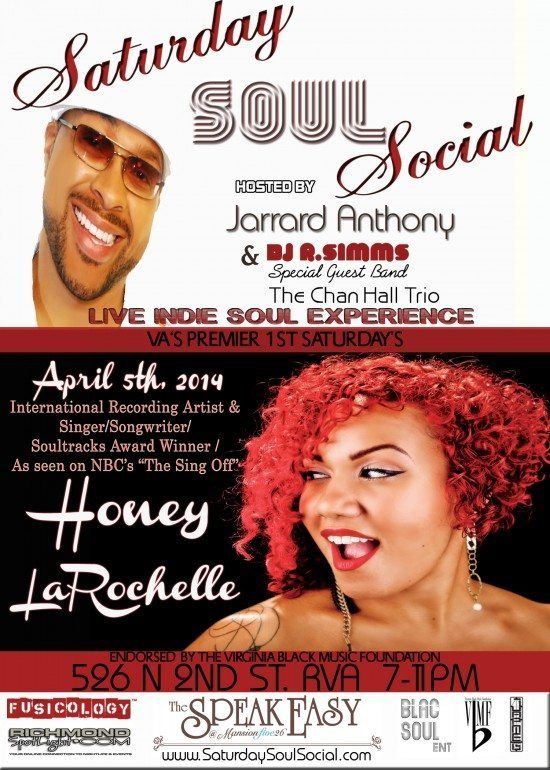 GFM Fam which includes yours truly, this is one you don't want to miss! Unfortunately, yours truly being a working musician I can't be in the place to be on Saturday to witness what always proves to be a good time with some great music. The featured artist Honey LaRochelle is no stranger to these parts and these ears and I think it's fantastic that she is able to make a stop here in RVA as part of her YESS HONEY! East Coast Tour.
Honey LaRochelle is an artist whom I believe is doing it the right way, her way and on the strength of hard work, talent and creativity. Having been mentored by and working with one of the best to ever do it Roberta Flack, that is not just a factoid that resides on Miss LaRochelle's bio it is evident in her creative output. But hey, don't just take my word for it… if you are in the area of Saturday night make sure to make your way out to the Saturday Soul Social.
Here's a little bit of "Heaven" from Honey LaRochelle

Ivan Orr is a multi-instrumentalist, composer, performer, and writer. A native of Charlottesville, Virginia Ivan was involved with the forming and nascent days of The Music Resource Center as its first Program Director. A graduate of Virginia Commonwealth University's Department of Music, Ivan currently resides in Richmond, VA where he maintains an active performance and production schedule while serving as the Music Editor for Grown Folks Music, a position he has held since 2010.