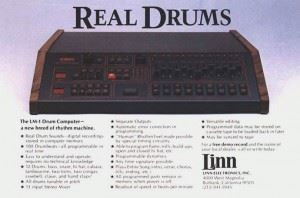 If the name Roger Linn is not familiar to you, the sounds created by his music technology innovations definitely are. Beginning in 1979 with the venerable Linn LM-1(the sound of the 80's esp. Prince) to his partnership with Akai which developed the original MPC 60 series and later the MPC 3000, Roger Linn's products have been the foundation for many a groove.
Many artists and producers from the aforementioned Prince to J-Dilla(RIP) and new era writers/producers like The Dream owe an indelible debt of gratitude to Mr. Linn for developing machines which, while being electronic, have a feel that creates a rhythmic pocket that is undeniable.
As someone who has programmed drums on a lot of different platforms both hardware and software, nothing comes close to the "feel" of Roger Linn product both in terms of the actual touch of the surface and the way that his technology lines up the music. But you don't have to listen to me to believe that…listen to the music. When I say listen to the music, over the last 30 years the listening list would be so extensive it would probably be easier to create a list of music that didn't utilize a Linn product.
Currently, Mr. Linn is working with Dave Smith(Prophet Synthesizers) on the creation of the Linn Drum II: "the goal of LinnDrum II is be a new musical instrument for the real-time creation and improvisation of beat-oriented music, both in live performance and in the studio." per Roger Linn's website.
Truly Mr. Linn, thanks for the beats!
DJ Quick on the SP, MPC 60 & Akai MPC 3000
Roger Linn Interview
Roger Linn's website

Ivan Orr is a multi-instrumentalist, composer, performer, and writer. A native of Charlottesville, Virginia Ivan was involved with the forming and nascent days of The Music Resource Center as its first Program Director. A graduate of Virginia Commonwealth University's Department of Music, Ivan currently resides in Richmond, VA where he maintains an active performance and production schedule while serving as the Music Editor for Grown Folks Music, a position he has held since 2010.