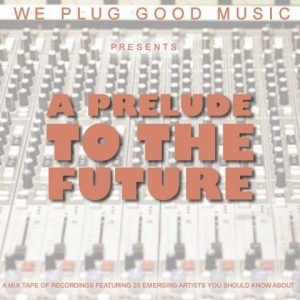 Art is always out in front of commerce and as such music was a global phenomenon eons before the globalization of commerce. I firmly believe that the great folks over at We Plug GOOD Music must have given a lot of consideration to what the title of this great compilation would be because all one has to do is to go anywhere online to see that collaborations have moved from the neighborhood to different hemispheres.
From the official press release
WE PLUG GOOD MUSIC
present
A Prelude to the future
A collection of sound recordings featuring 20 emerging artists in
HIP-HOP, SOUL AND SPOKEN WORD
This Mixtape contains an array of passionate expression sonically captured in an element of these artists' historical journey.
Available NOW for FREE DOWNLOAD

http://www.wepluggoodmusic.bandcamp.com
'Good music perfectly relays what the author innately feels or intends to convey.' – We Plug Good Music
A Prelude to the Future is that definitive window into the pool of the most current and distinguished artists and music that you should know about.
Since February 2009, We Plug GOOD Music has consistently provided its online community with the very best emerging music from all around the world vis-a-vis plugging these emerging artists to a wider range of audiences via its' websites & online radio show as well as bringing quality live music to diverse audiences in and around London (UK) & Lagos (Nigeria) via their 'One Mic' showcases.
'We Plug GOOD Music' has established an online presence successfully plugging the emerging music that commercial radio doesn't play, Aiming to push the true artform of music and NOT necessarily what the industry calls 'good' & in their consistent, continuous bid & effort to keep plugging the best of NEW & EMERGING Performing Artistes, they've come together with 20 of the most promising emerging artists to create 'The Future is NOW' project beginning with this 'A Prelude to the Future' mixtape
A Prelude to the Future features 20 of the best emerging artists that we have come across over the last year from all around the word & Specifically hand-picked from the ever-budding global Emerging Music scene is an array of amazing Soul, Hip-Hop and Spoken Word artists from all around the world (with exclusive and unreleased material) including…
REMOT (pronounced Remote), who is an Emerging Hip-Hop producer from Massachusetts, winner of the Hip-Hop DX American Gangster ReMixtape Contest in XXXX and long-term collaborator with World-renowned DJs/Producers Mick Boogie & Terry Urban on amazing projects such as the MTV, VH1 & Entertainment Weekly's featured Viva La Hova, the Jay-Z & Coldplay mash-up mixtape that was endorsed by both Jay-Z & Chris Martin. His accomplishments also include production for Chip tha Ruler, Kidz in the Hall, U-N-I & Grammy-Nominated K-Os amongst others. Look out for the release of his Instrumental LP presented by Mick Boogie, Kevin Nottingham & AnmlHse.
We also feature UK-based Electro/Indie/Hip-Hop Artist SHADEZ (The Misfit) on this project, fresh off of his feature on Channel 4's EVO Music Rooms sponsored by FIAT where he was hailed as one of the UK's BEST unsigned artists, his in-store performance at the brand new CASIO G-SHOCK EAST Store in London, as well as performing at the astounding Love Box festival alongside class-acts like Duran Duran & N.E.R.D in 2009. Look out for his debut EP, 'Shadez the Man that Fell to Earth' which is out shortly.
Zayna Daze, a spoken word artist, experimental singer & instrumentalist from East London who draws her musical influences from Alicia Keys and The Carpenters. Having successfully won several UK-circuit poetry slams (Farrago) & participated in the BBC 4 2009 Poetry Slam, Zayna has released two collaborative efforts with lyricist and co-producer Cloudfistconceptz in the last year, successfully fusing music & spoken word on their 'Cloudy Daze' volumes. Look out for her first Solo EP project 'The Black Sugar Project' out in November 2010.
Also featured is emerging Nigerian 'Alternative Soul' Singer/Song-writer BEZ, a natural performer with a charismatic and playful stage presence who has previously opened for International Sensation, Asa & performed alongside Nigeria's premiere artists like Tuface, 9ice & D'Banj as well as World-renowned Hip-Hop/Soul singer, Nneka. Bez also took part in the Nigerian leg of the 2009's Hennessy Artistry Series which culminated in the Series Finale in NYC featuring the legendary Common & The Roots.
Joining us also on this journey as special guests are Portland, Oregon based Alternative Hip-Hop duo Moxie Black, fresh off of the success of their DJ Booth presented debut Promo album 'How Did This Happen?' with one of our favourite records of that album.
You will also get to hear new, exclusive, previously unheard & some re-released material from some of the finest emerging artists we've been privileged to work with, in the genres of Hip-Hop, Soul, R&B & Spoken Word from all around the world including emerging America's fast-rising underground Hip-Hop and R&B artists Remot, Midian, EOM & Emay, UK Soul, Spoken-word & Hip-Hop artists Shanaz Dorsett, GREEDS, AKS & Chockz the Rapper, The BB architects, Nigeria's own fast-rising Artists Waje, Kel & Naira and so much more in this 20-track opus & ode to EMERGING MUSIC.
This mixtape contain specially selected artists with real GOOD music for your listening pleasure… We want you to get to know these artists as we believe they are the FUTURE… Nothing more can be said on paper without you actually hearing the music so please PRESS PLAY via our Bandcamp page: http://www.wepluggoodmusic.bandcamp.com
We Plug GOOD Music presents: A Prelude to the Future is NOW available for FREE download at: http://www.wepluggoodmusic.bandcamp.com
Ivan Orr is a multi-instrumentalist, composer, performer, and writer. A native of Charlottesville, Virginia Ivan was involved with the forming and nascent days of The Music Resource Center as its first Program Director. A graduate of Virginia Commonwealth University's Department of Music, Ivan currently resides in Richmond, VA where he maintains an active performance and production schedule while serving as the Music Editor for Grown Folks Music, a position he has held since 2010.