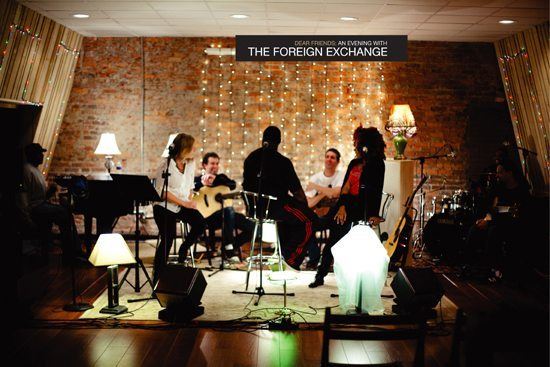 Get ready to add this one to your FE collection!
This past February at SoundPure Studios in Durham, NC, The Foreign Exchange gave a private acoustic show for 40 randomly-selected friends and supporters. The evening, captured on both audio and video, is the basis of their latest release, "Dear Friends: An Evening With The Foreign Exchange."
Serving as a companion piece to their latest release "Authenticity" and as a glimpse into their acclaimed live show, "Dear Friends" is a double-disc CD/DVD digipak that features the full acoustic concert performed by the band's current touring lineup of Zo!, Sy Smith, and singer/songwriter Jeanne Jolly. In addition to the live concert recordings, the release also features two new studio tracks; "Steal Away" featuring Jeanne Jolly and "All The Kisses" featuring Amber & Paris Strother of rising indie soul trio KING.
"Dear Friends" drops 6/28 on +FE Music and will be available on iTunes as a specially-priced video bundle. Hit the jump for the tracklist.

Tracklisting:
01. Introduction/Fight For Love
02. All Roads
03. Take Off The Blues
04. Lose Your Way/Band Introductions
05. House Of Cards
06. Greatest Weapon Of All Time
07. Something In The Way She Moves
08. Laughing At Your Plans
09. Daykeeper
10. I Wanna Know
New studio tracks
11. Steal Away feat. Jeanne Jolly
12. All The Kisses feat. Amber & Paris Strother of KING
Be sure to check their tour schedule to see when they'll be coming to a city near you.