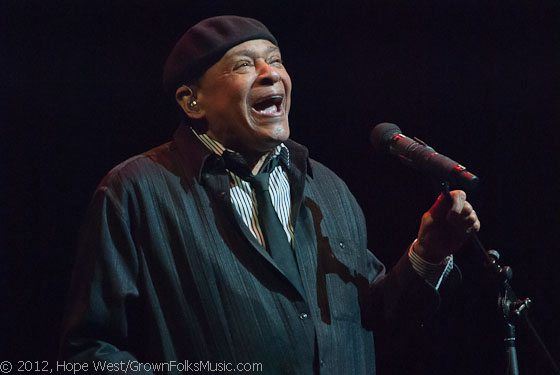 Hola, GFM family and greetings from the Jazz Roots concert series!!! From stylish pumps accentuating the ideal dress to tailored suits matched with the meticulous tie, the Cobb Energy Performing Arts Centre was filled with music enthusiasts ready for a night of great music. Created by executive producer and music industry entrepreneur, Larry Rosen, the inaugural show of JAZZ ROOTS was off to a good start as they proudly presented world-class musicians, Ramsey Lewis and Al Jarreau.
As the show opened, the Chicago braised "gentle-man of swing", Grammy awardee, Ramsey Lewis was honorably praised as his fingers stirred the stage with the familiar tune, Wade In the Water. With piercing intensity, the audience was drawn into every note as Lewis played classics like John Coltrane's The Blessing, Stevie Wonder's Living for the City and had the crowd mouthing every word to Connie Stevens' original, Betcha by Golly Wow. Anxious in expectancy, the audience would not release Lewis until he played his collaborative hit with Earth, Wind & Fire, Sun Goddess.
Later in the night, Grammy Award winning recording artist, Al Jarreau greeted the crowd with a beguiling smile, a lifted wave and a joyous spirit as he happily sang his cheerful hit, Mornin'. While Jarreau delighted the audience with songs like Rain or Shine, Scootchy Booty and Boogie Down, what was most infectious was the festive spirit behind his performance. Even in the wistful lullaby of Heart's Horizon, Jarreau conveyed an entrancing essence that was fascinating to observe. As the singer tipped his hat and thank the audience for their support in coming out, he returned again for an encore performance of two songs, one including the love song, We're In This Love Together.
Overall the opening show of the JAZZ ROOTS concert series was memorable. It was a perfect night that highlighted not only the legendary artistry of Ramsey Lewis and Al Jarreau, but the great importance of music appreciation for future generations. If you missed this unique experience, fear not my friends. The JAZZ ROOTS series will continue with another great event at Cobb Energy Performing Arts Centre October 19th with performances by Grammy Award winning artists, Teri Lyne Carrington and Esperanza Spalding.
Please take a moment to enjoy the photos from this fabulous event and hope to see you at the next show!!
[flagallery gid=3 name=Gallery]

Hope is a music enthusiast and continual student of photography. Also known to rock out a quiet church or elevator with her current ringtone, Tom & Jerry's Uncle Paco, "Crambone".