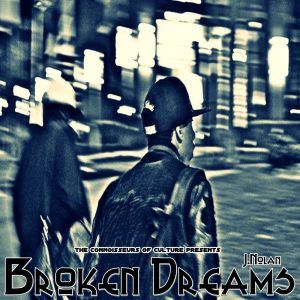 GFM fam we wanted to take some time today and let you know about J. Nolan an Atlanta based emcee who's visibility should certainly be on the rise very soon. Currently he is promoting his latest project Broken Dreams which is being presented by The Connoisseurs of Culture, which is comprised of DifferentKitchen.blogspot.com, PleaseDontStare.com, & TheCouchSessions.com .
I want you all to put your ears on the lead single which is entitled "Preparation" produced by B. Dilla. "Preparation" is a study in contrasts: mellow chords from the piano, against a frantic drum track, harmon muted trumpet against J. Nolan's 'ye-esque flow with a sense of urgency. There is plenty of space in the track for the vocal to breathe and all of the lines that compliment the vocal are very, very tasteful. No gimmicks or cartoony hooks, this is a different type of sonic landscape, devoid of the ever omnipresent 808 sounds and fills and that other constant track accoutrement that I dare not mention.
"Preparation" is a declaration of a man on a mission. Someone who is not afraid to blaze his own trail and well aware of the rewards and consequences of going your own way. Full of substance "Preparation" requires the listener to become contemplative for its 4:17 duration, but this is not a taxing request, but one that is necessary and pleasurable all at the same time.
This reviewer is really poised to hear more from J. Nolan and his team. The rap crews that J. Nolan name checks towards the end of the track speaks volumes about the musical preparation(pun intended) that he's done. Now it's up to us: Are we duly and truly prepared for J. Nolan?
Keep up with J. Nolan at the following sites: