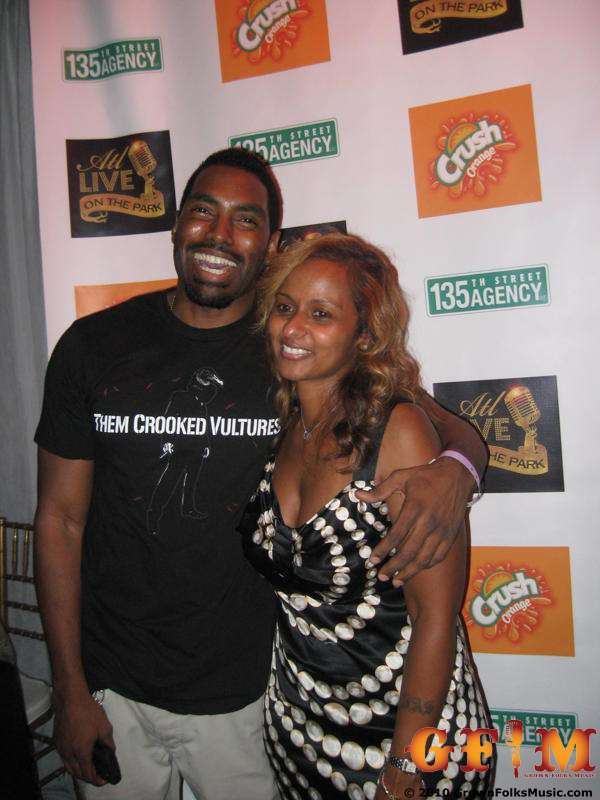 Hola my GFM fam!! It's ya girl WestStyle Chronicles back from another edition of ATL Live on the Park. With Kenny "Touch Yourself" Burns as the master of ceremonies and  almost losing my drink when DJ Salah Ananse played The Screams of Passion by The Family on the one's & two's, celebrity guests like Joi, Jermaine Dupri, Bryce Wilson and many more all came to celebrate the long awaited book release of  The Hip Hop Professional from music industry veteran, Shanti Das. Along with the tremendous support, this month's showcase highlighted R&B group GIRRL,  Bystorm/Jive Records recording artist, Miguel and Darkchild/Interscope's Verse Simmonds.
First, let me start by saying I hate to begin any post criticizing anybody but I don't think GIRRL's performance left me any choice.  So on that note, let me say it plainly – I didn't like this group at all, period! In the first few seconds of their show, they came out with an attention grabbing strut but after that moment it wasn't nothing nice. Now when you decide to do a classic like En Vogue's Hold On, you have to make sure your vocals are tighter than Lil Wayne's jeans. Even though En Vogue made their harmonies sound effortless, their vocal blending can be complex especially when done acappella. GIRRL's performance didn't come near the perfection of the original cut and they were off key in various moments of the song. In their song, Parking Lot, I have to say once again I was disappointed. This song wasn't a good look for the group at all. Instead of choosing a song that would smartly brand them from an angle of female empowerment – which En Vogue and TLC have mastered – this song just lingered in the overdone "sex sells" category.
GIRRL Performing @ ATL Live on the Park from Grown Folks Music on Vimeo.
Next on the stage was Bystorm/Jive Records recording artist, Miguel. In his performance, I saw a lot of Prince in his physical moves and mannerisms.  Also, he has a certain "nudge and wink" charm in his smile but I just felt a certain disconnect in this particular performance. Personally, I subscribe to the notion of a new artist warming an unknown audience. Let the first song be a recognizable song they're already familiar with and complimentary to the artist's voice. In this way, the song acts as the icebreaker to build a relationship to the crowd. In the case of Miguel, he definitely would appeal to the ladies due to his "bad boy" appeal in Quickie and Strawberry Amazing and carries a particular energy however it didn't come out strongly between him and the crowd. Miguel had a pretty fair performance Tuesday night but it failed to make the statement of an exclamation point.
Miguel Performing @ ATL Live on the Park from Grown Folks Music on Vimeo.
Last on the stage was Mr. Verse Simmonds. In watching Verse's performance, I have to be truthful and say I really wasn't moved by his stage presence. In his first selection, Simmond did a song remake of Marvin Gaye's Sexual Healing which didn't appeal to me. He voice doesn't carry a significant presence nor is it memorable in ability. In the last selection, the crowd began jumping out of their seat with his radio cut, Buy You a Round. Now I can respect the power of a hit – don't get me wrong. However in the case of Simmonds, his "song" seems to be bigger in presence than the impact of his artistry.
Verse Simmonds Performing @ ATL Live on the Park from Grown Folks Music on Vimeo.
Surprise performances were made by Joi, Dondria and Christión. Check out the video as well as the party pics of some notable guests in the house.
Christión & Joi Performing @ ATL Live on the Park from Grown Folks Music on Vimeo.
Hope West is a music enthusiast and music photographer who has captured artists like B.B. King, Janet Jackson, Teddy Riley and many others.  A life long lover of music, Hope is a graduate of Full Sail University where she studied music engineering. She's also a proud "Florida Girl" born and raised in Ft. Lauderdale, Fl. and currently resides in Atlanta, GA as a "Georgia Peach". Hope is known for her creativity, sense of humor and quirky perfectionism. Artist(s) that make her freak out as a music fan: Sheila E., Jimmy Jam & Terry Lewis, Quincy Jones.