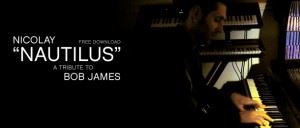 Another one for the 'artists who get it' file. Aside from being a great musician, producer and creative force behind The Foreign Exchange, he is always giving his fans more of what they want. More great music, more personal insights, more access & more free treats! As a Bob James fan, I can especially appreciate his approach to this project as well as the time and creativity it took to put this together.
This series, along with his "Inside the Producer's Studio", gives you yet another reason to check out Nicolay and support great music. Check him out, in his own words:
In July of 2006, I was approached by people representing world renowned jazz keyboardist Bob James. They were working on putting together a project, to be called 'Sampling Bob James: The Nautilus Project', on which several DJ's and producers would present their take on one of the most sampled tracks in hip-hop history, 'Nautilus', from Bob James' 1974 album 'One'. To my delight, I was invited to be one of the contributors, but instead of sampling the original, I chose to 'cover' it and re-create the track from scratch.
Get the download.