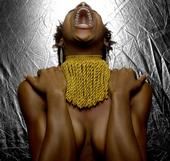 "Remember Me" is the debut cd from artist Nakia Henry. After listening to early tracks that would be included in the full project I was very interested to hear the entire cd but those tracks in no way prepared me for the sheer joy I would experience in listening to the cd in full.
"Remember Me" is 15 tracks (plus a bonus song) of great listening. It is fun, thoughtful, uplifting, moving and healing. "Remember Me" is one of those cd's that you will be able to listen to 5 – 10 years from now and you will get the same enjoyable feeling that you will get listening to it today.
Nakia Henry, born and raised in Detroit and now living in NYC, is trained in theatre arts and this cd is certainly theatrical. Each song tells stories and evokes images. She uses a myriad of sounds to do so ranging from hip hop beats and references to classic hip hop lyrics to haunting melodies to hints of field songs.
The first songs I heard in its recorded form from this cd was "Afromantic", a rocked out funk song that has an incredible ebb and flow and "Remember" feat. Poet, MC, Photographer (a couple of his photos of Nakia are in the CD packaging) Saddi Khali. It is a hauntingly aggressive track that features smooth deep vocals from Nakia and matches them with a pulsing beat and the controlled aggression from Saddi that builds throughout the track.

"Afromantic" and "Remember" are the first songs I heard from the cd only because they was sent to me early. They are actually tracks 8 and 10 on the cd respectively. The first song that listeners to the cd will hear, Track 1, is "Fly Away Girl" where you hear Nakia singing "I Just Want To Fly Away…" and the line is delivered in such a way that you can truly feel and relate to that moment where you want to get away to a better place. "Lily" follows on the cd and is a song that is truly a story of empowerment and self esteem. Nakia says that she wants to help "heal the world " with this project and each song has finds a way of touching something inside you. Whether it soothes pain, helps you put a positive spin on your life which is done in a fun way on "Think Again", or reminds you how important it is to be grateful exemplified in "Smile", or conjures up the "Beautiful Music" of great lovemaking.
"Remember Me" is indeed an unforgettable debut from this thoughtful artist. It is truly masterful from beginning to end. Congratulations to Nakia Henry and her co-Executive Producer Fernando "Royal" Singleton for giving the world such an incredible piece of music.
Standout Tracks: All of Them
Favorite Tracks: "Afromantic", "Remember" feat. Saddi Khali, "Beautiful Music", "I'll Be"
"Remember Me" is currently available online at CDBaby.com, Amazon.com and Itunes. It is also available anytime you see Nakia Henry perform live.
By Marko Nobles
Marko Nobles is Creator, Host and Producer of Rhythm And Soul Radio, an independent urban eclectic radio show airing weekly on WHCR 90.3FM weekly in Harlem, NY which led to the creation of the 24 hour Urban Eclectic Internet Radio Station, www.RhythmAndSoulRadio.com. Both are under the banner of his company InJoy Enterprises which also produces concerts and entertainment events such as the successful monthly event The Rendezvous, which takes place on the last Monday of every Month at Shrine World Music Venue in Harlem.
Ivan Orr is a multi-instrumentalist, composer, performer, and writer. A native of Charlottesville, Virginia Ivan was involved with the forming and nascent days of The Music Resource Center as its first Program Director. A graduate of Virginia Commonwealth University's Department of Music, Ivan currently resides in Richmond, VA where he maintains an active performance and production schedule while serving as the Music Editor for Grown Folks Music, a position he has held since 2010.