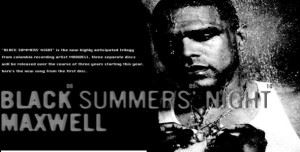 By now you've probably got yours memorized, on repeat and told at least three friends about it. Cool!
Continue to support great artists by purchasing their music and patronizing their live shows. Also, be sure to check out Soul Bounce, Honey Soul, The Soul Afrodisiac, Vivrant Thang, & the Latest Max News for all your Maxwell exclusives, updates as well as great music!
For all you vinyl lovers, here's a special treat: BLACKsummers'night (Amazon.com Exclusive Vinyl w/CD)
Check out a clip from his performance at the Essence Festival after the jump.