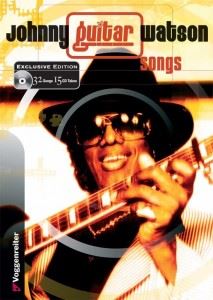 With a career that spanned well over four decades, that includes a body of recorded work that represents the best of the Blues, Funk, R&B and Rock, Johnny "Guitar" Watson is a bona fide, certified and qualified Guitar Hero. Watson was able to maintain his visibility throughout his career by constantly reinventing himself and his sound.
A decade before Hendrix, Watson was playing his axe behind his back and with his teeth. Before Benson sang his solos in the 70's… you guessed it, Johnny "Guitar" Watson was scattin' and pickin'. Raised in Houston, Watson counted future greats like Albert Collins as his contemporaries. When he arrived in Los Angeles in the early 1950's he was primarily known as a pianist and vocalist. That would change by mid-decade.
The far-reaching influence of Johnny "Guitar" Watson can be heard from artists ranging from the "Godfather" of GoGo Chuck Brown to Sly Stone and Frank Zappa. Etta James cites Watson as her main vocal influence. During the mid-90's Johnny "Guitar" Watson's music experienced a sort of renaissance through sampling by artists such as Redman, Snoop, Mary J. Blige and Jay-Z. Watson's music has been sampled most recently by Talib Kweli for his 2007 release "Hot Thing" which was produced by Will.i.am.
I was introduced to the music of Johnny "Guitar" Watson during his mid-70's run of hits like "Superman Lover" and "A Real Mother For Ya". Check out this mid-70's reworking of one of his previous hits "Gangster of Love" which was also a big hit for the Steve Miller Band.
R.I.P. Johnny "Guitar" Watson- A Real Guitar Hero
Johnny Guitar Watson – Gangster Of Love

Ivan Orr is a multi-instrumentalist, composer, performer, and writer. A native of Charlottesville, Virginia Ivan was involved with the forming and nascent days of The Music Resource Center as its first Program Director. A graduate of Virginia Commonwealth University's Department of Music, Ivan currently resides in Richmond, VA where he maintains an active performance and production schedule while serving as the Music Editor for Grown Folks Music, a position he has held since 2010.