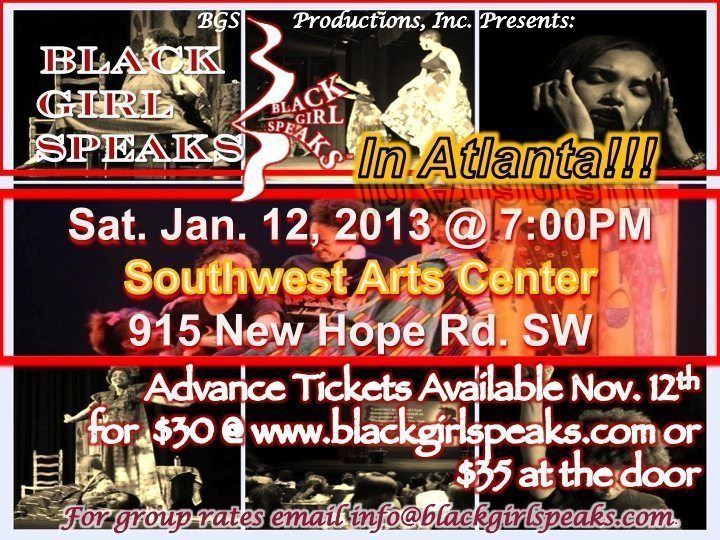 The Production Has Influenced and Inspired Hundreds of Men, Women and
Children; and Is Expected to Impact Even More with Its Atlanta Debut
Talitha Anyabwelé and BGS Productions, Inc. will present Black Girl Speaks in Atlanta on January 12th.
For one night only, Atlanta audience members will be entertained and enlightened
by stellar performances and a myriad of characters interpreting the
message through monologues, spoken word, song and dance. Black Girl
Speaks delivers a series of powerful monologues and spoken word told
through the eyes and spirit of a black woman. The Southwest Arts Center
(915 New Hope Rd. SW) will host the popular original production, which has
received rave reviews from performing art enthusiasts, educators and the
general public. Talitha Anyabwelé, a native of Atlanta, is the
playwright, producer, and actress. She is excited about the growth of
Black Girl Speaks and the impact it has, "I'm grateful to be used as a
vessel to continue the legacy of sharing our oral history. Black Girl
Speaks has become a great movement of empowerment for our community
because it's rooted in the strength of our heritage." Black Girl Speaks
is on Saturday, January 12th, 2013 at 7pm. Tickets are on sale at
www.blackgirlspeaks.com. The show is open to the public. All ages are
welcome. Tickets are $30 in advance; $35 at the door. Group rates are
also available at $25 for groups of 10 or more. Fulton County Employees
also get discounted tickets at $25.
Over the past decade, Anyabwelé has traveled all over the country, West
Africa, and parts of Europe performing Black Girls Speaks to diverse
audience members eager to develop an in-depth understanding of this unique
perspective. "More than a show. It's a MOVEMENT," proclaims the
playwright. As CEO and Artistic Director of BGS Productions, Inc.,
Anyabwelé has been successful in nurturing this MOVEMENT that empowers and
humanizes the black female experience by using the personalities of
various women to express tales of liberation, triumphs, sisterhood and
love, which are the underlying themes of her performances.
For media inquiries and interviews, please contact Keisha Pickett at
Keisha@pickettpr.com. For tickets and more information, please visit
www.blackgirlspeaks.com.
About Black Girl Speaks/BGS Productions, Inc.:
BGS Productions, Inc. was founded in 2005 as the parent company for Black
Girl Speaks, a one-woman show, and Building Greater Success, an
educational program consisting of a series of empowering lectures,
conferences, and workshops. The founder, Talitha V. Anyabwelé, developed
the company to be a vehicle for artistic expression to positively impact
the masses. BGS Productions, Inc. produces a plethora of performances,
workshops, conferences, and enrichment programs. Its progress as a
company has been rooted in using those with the most resources to empower
those with the least resources through performing arts, educational
enrichment, and holistic healing. For more information, visit
www.blackgirlspeaks.com.