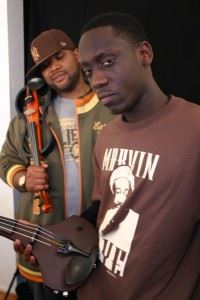 From Billboard's Underground series, profiling upcoming new artists comes Black Violin. They've been around for a number of years, touring the world, working with the industry elite and providing opportunities for the youth to channel their emotions and talents in a positive fashion.
The group consists of two talented, classically trained musicians, Kev Marcus and Wil-B, and resident DJ, djtk, who fuse Classical, Jazz, Hip Hop and R&B to create their own innovative style of music.
Great to see some real musicians and innovators getting some shine amidst all the crap madness these days. Check out their EPK after the jump.