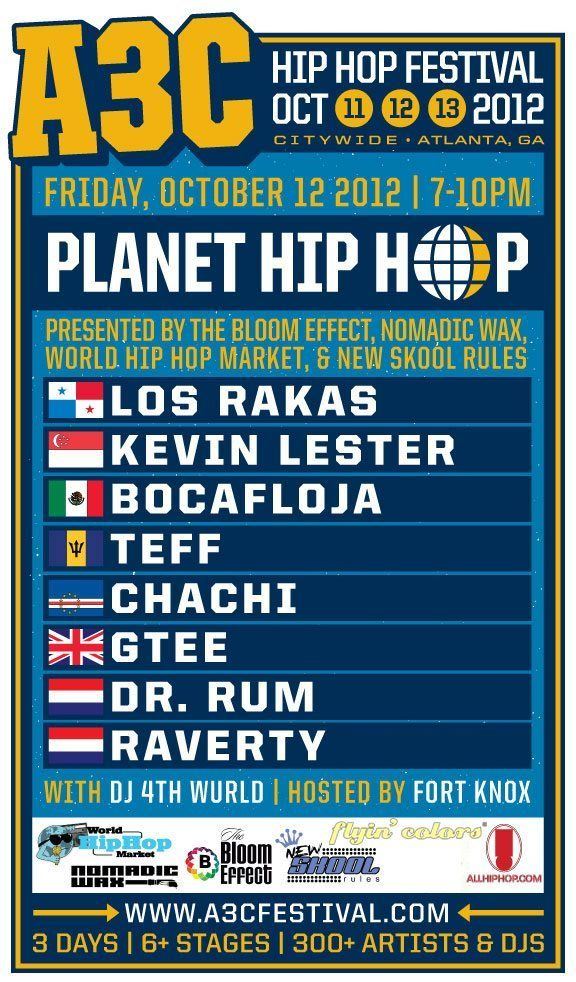 Atlanta has proudly been the backdrop for the independent music scene which has greatly impacted the platform for up and coming artists. This notable tradition has not slowed or ceased in its support but only increased through numerous music festivals in the "dirty south" city. One such festival, recognized as the largest Hip Hop festival in the Southeast and on the rise to being internationally celebrated, is the A3C Hip Hop Festival (www.a3cfestival.com) which will begin on October 11th – 14th. Known for their live music performances, A3C will also feature breakdance, graphic art, fashion, film, producer showcases, pro audio demonstrations and music industry panels. To further the international arms of the festival's influence, World Hip Hop Market, THE BLOOM EFFECT along with Nomadic Wax, will co-produce this year's 2nd ever International Stage at A3C which will unite the talents of a creative and diverse group of lyricists from Singapore, Panama, Cape Verde, Holland, UK, Barbados and Mexico.
"A3C is a perfect place for a global hip-hop event like this," said The Bloom Effect CEO, Fiona Bloom. "An event that unites MCs from a variety of backgrounds, countries and nationalities is exactly the kind of event that we want to be promoting at a festival like A3C. We talked about this for a few years and now it's finally being realized.  As big as the movement's growing – one International Hip Hop showcase doesn't really give it the attention it deserves but we promise to deliver a night of historic measures."
The International Stage will take place at the Masquerade, (www.masqueradeatlanta.com, 695 N. Avenue Northeast) on Friday, October 12th. Showtime will begin at 7PM and end at 10PM. This year's event will feature a handful of rising global stars including Kevin Lester (Singapore), Chachi (Cape Verde), Teff  (Barbados),  BocaFloja (Mexico), and as part of an exchange with New Skool Rules from Holland will feature 3 of their finalists – Dr. Rum (Holland),  GTee (UK), and the only female, MC Raverty(Holland).  The amazing Panamian act, Los Rakas, will headline and close out the night, DJ 4th Wurld will be on the decks and the event will be hosted by local personality Fort Knox.
Los Rakas –   Panama –  http://www.losrakas.com
Chachi –   Cape Verde  –  
BocaFloja –  Mexico-         http://www.emancipassion.com
Teff –    Barbados –           
Kevin Lester  –   Sinapore –  http://www.thelioncityboy.com
Dr. Rum –   Holland-           http://www.myspace.com/rum221
DJ 4th Wurld –  Atlanta       http://www.myspace.com/dj4thwurld

Hope is a music enthusiast and continual student of photography. Also known to rock out a quiet church or elevator with her current ringtone, Tom & Jerry's Uncle Paco, "Crambone".