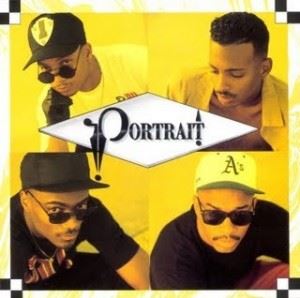 Heeeeeere Weeeeeeeee Goooooo,(singing) going thru the same thaaang; HERE WE GO AGAIN!
I still chant that line either out loud or in my head almost every time someone either says it [here we go again] or when I find myself in a repeated asinine situation (keep in mind I'm not the one looking for the asininity. It finds me). And that's pretty frequent. And 9 x's outta 10, if anyone is around that hears me they immediately chime in and then the question comes right after; whatever happened to Portrait?
This Los Angeles quartet hit the scene in 1992 with their self entitled debut album and the new jack swing hit single "Here We Go Again". The four members, Michael Angelo Saulsberry, Phillip Johnson, Eric Kirkland and Irvin Washington III, actually managed to bump Whitney Houston's "I Will Always Love You" down the charts after lasting 20 weeks at the top. Their follow up singles "Honey Dip" and "Day by Day" also topped the charts and led the group to platinum status.

In 1995 Portrait released another album, All That Matters and dropped two singles "How deep is Your Love" (a Bee Gees remake) and "I Can Call You" which didn't have much success but nevertheless they recorded another album entitled Picturesque in 1995 which was exclusively released in the Asian market. In 2005 the four returned with another album Share My Love and since then nothing more.
Portrait was another one of those underrated groups that was, in my opinion, overlooked. Unfortunately they faded out with the "new jack swing" era but have not been forgotten. I think Teddy Riley should work on bringing that era back. (Somebody call Aaron Hall & Wrecks N Effect).
The day of the "male r&b group" seems to be over (sadly) but as long as these new artists keep trying to incorporate the old skool with the new, we'll always have groups like Portrait to compare and remember what the true school music sounds like.
Aaaaaand since you are a part of the old school (kinda)…
GFM wants to know, where are you? You are missed.
If you got the info, then let us know!
contact [at] grownfolksmusic [dot] com
KayBee (ItiZwutiTizZ)