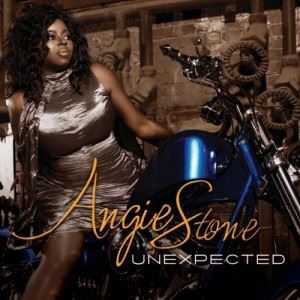 Hola mi amigos!!! It's your girl WestStyle Chronicles with GFM bringing you the exclusive!!! From hip hop, R&B and neo soul, Angie Stone has done it all. We had the great opportunity to catch up with Ms. Stone on the release of her upcoming album, Unexpected.
She shared everything from the inspiration for her new album to her dream musical collaboration – and no, it's not D'Angelo people. So pull yourself up a seat and join the conversation with the 3 time Grammy nominated, Stax recording artist,………….. Angie Stone.
WestStyle Chronicles: I have to say I'm really excited and glad to get a chance to talk to you. How are you doing? How you feeling?
Angie Stone: I'm feeling pretty good right now – just doing a family thing. I'm good with the anticipation of the album, I'm good with the artwork and I'm good with how we've structured and prepared for this project.
WStyle: Now you have a new single out on your upcoming album "Unexpected" called "I Ain't Hearin' You". Now I was just talking to my partner the other day about how hard it can be to find simple "feel good" music. Was that the feeling you were going for in this song because it has that feel.
AStone: Yeah, I was actually reaching back for the Evelyn "Champagne" King days. Trying to get that music that when you heard it, "Baby, you make my love come down" (singing) – I was thinking about that time period and where everybody was mentally. You heard that record. It was a feel good record. You felt good when you heard it.
WStyle: And that's something you don't hear too often.
AStone: Right, and that's exactly what I was going for.

WStyle: Now, "Unexpected" has a combination of different styles. Was that the inspiration for the title or was it a reflection of other things in your life as an artist?
AStone: The inspiration for the title was the untimely death of my father. So I wanted to encompass everything that I've done in my career since 1979 to today. I wanted to do a little bit of Angie, the growth process – where I am, where I've been, what I've seen and embody it and still have it be relevant to today. So everything is a part of what I've already done but it's almost like a combination of styles from Angie Stone.
WStyle: Because I hear a bit of the classic Angie Stone and then you take some other unexpected turns on your album. Now, you have some great cuts on your album. My personal favorite is "Maybe". What is your favorite cut on this album?
AStone: Oh, everybody loves "Maybe", girl. That's one of those songs that you can relate to if you've ever been involved in a relationship that you wanted to go further, that you anticipated – this could be my future, this could be something worth staying in the long haul for. "Maybe" is that song.
WStyle: Do you have other cuts you favor as well?
AStone: My second favorite is "I Don't Care" [and] my third favorite is "Free".

WStyle: "Free" is a good song. That's the one with Jazze Pha, right?
AStone: Yeah, that's a strong song. That's more of a "sista girl" anthem. It's for anybody really because Rico was on [the album] with me. He's a man coming from a man's perspective. Rico is Fantasia's brother. He's singing in the bridge, "you're a lion out the cage that's free to roam/like a butterfly breaking out of its cocoon." I mean he just came with it.
WStyle: And that song has a certain chemistry in it.
AStone: Oh yeah and "Kiss All Over Your Body" with the guy that sounds like Ronald Isley is one of those "R.Kelly & The Public Announcement" songs. I wanted to reach back to that era to show where Angie Stone would be in that era. And I wanted to show that there is a sensual side to me as well.
WStyle: So we can get the multi-dimensional aspects of you as an artist.
AStone: Right, and if I had to go any direction, I'm capable [of it].
WStyle: And it's good when you can be free to do that without necessarily feeling, "oh, I gotta follow this script or I gotta fit this mold…"
AStone: Right, I've been a neo soul artist for the last 10 years. Before that I was with Vertical Hold, before that I was doing hip hop with The Sequence and so forth. There wasn't Angie Stone and D'Angelo at that time. Then when this whole movement took place, I was right there at the forefront with one of the best in the business. So I've had my share of different genres.
WStyle: And it shows because not everyone can go in some many diverse directions and maybe for different reasons. Maybe they want to, but they're dealing with different things regarding their record label or maybe they don't have the diversity to do it. It's fortunate you have that advantage.
AStone: I thought the song "Why Is It" was a song that came from my personal life. Situations of every time you move on, you get somebody great in your life, all your exes want to come back in. They want to try to fix and patch the things that tore you apart. But it's like, "why is it now that I'm in love, I found someone that loves me the way I use to love you. You know what I mean?
WStyle: Yeah, it seems like they get an internal email telling them you're happy and moved on.
AStone: Oh yeah, they found that you've risen above the occasion and start poking holes in your situation and I've been a victim of that as well.
WStyle: Because this album was so personal, especially with your father passing so suddenly, how did you channel that?
AStone: Well, I had to use my dad as a channel through the album because I was at a place where I really didn't know if I could make it or even do another record. My best friend and my manager told me, "Look, either this is going to be your best year or your worst year." So I started to use my dad as my guiding post. When I went in to sing the song "Maybe" I had done it four or five times before. It hadn't really felt like anything and then I took my dad's energy in there with me. I said, "Dad, I need you to help me get through this song." So I kind of fixed my mind on his face with his eyes opened, of course and he stood there with me while I performed the song. His spirit was in the room and the very last time I [recorded] it was the [recording] that's on the album.
WStyle: As a songwriter and vocalist, what is your favorite part of the recording experience?
AStone: You know it's varied over the years. When I'm working on someone else's project I feel a
burst of energy that comes from God himself. If I was sitting in a studio with anybody – just working on a project – I'm a motivator so I can push people to the limit and I give 110% of myself. I love that aspect and that's part of writing and producing. I think if I had my choice, I could probably push an artist to the next level. Me, myself I feel like it's a comfort zone for me. I am who I am, what you hear is what you get and I don't push myself as hard anymore because I've been doing this for so long. I need a change of pace.
WStyle: What artist(s) are you a fan of?
AStone: My favorite group, my favorite iPod, my favorite uplift, my favorite is "Mary Mary" all the way. I'm a huge "Mary Mary" fan. I cry, I get chills [and] whenever I'm on the highway that gets me through. I just love their spirit, their energy [and] everything is positive about them. Their music is flawless.
WStyle: With so many changes and trends in the industry such as social media, some may say there's some overuse of artist collaborations on a mainstream level, etc. Do you feel these changes empower artists or take away some creativity in the process?
AStone: Well, I think people are doing what they really can at this point to survive with the collaborations. I don't see anything wrong with collaborations. There's been some [good ones] since I can remember with Marvin Gaye and Tammie Terrell along with all the other people that did duets back in the day. But I think it's just another tool to bring attention to the artist. I don't think it's a bad thing. I don't think it defuses our sense of growth. I think it actually influences us to work together. I think it's a more empowering tool if you allow other people to come in and add some colors to your work because sometimes being in the business you can't get pigeonholed into one thing. You need an outside element I think to broaden your horizons.
WStyle: Name a song you've heard that made you feel like it was written for you?
AStone: "Maybe."
WStyle: Is there any reason that particular song? Any nuggets of insight?
AStone: Well, I can say – I can't pinpoint everything other than the obvious. That song is self explanatory. Being in a relationship, I'm an artist so it puts anything I do on a high profile. I think sometimes with the tension and the climate of the industry – often when I do interviews a lot of people ask me about D'Angelo and I've not been with D'Angelo in over 12 years. We've both moved on. A lot of people love to say that D'Angelo and I worked well together. I still get fan mail and a lot of questions about when are you going to work together again, when are you going to do this. We have both moved on. If you know anything about relationships unless there's that mutual understanding, it's almost nearly impossible to remain best friends with someone that you were in love with and it goes smoothly because there's the obvious [sic] of significant others in your life. So unless you really think about it like Jada and Will, it very seldom happens that way because underneath all that there's still some remote feelings involved.
WStyle: I agree. There has to be that mutual understanding and respect.
AStone: Absolutely.
WStyle: What is your favorite natural, non-instrumental and non engineered sound?
AStone: Hmm….mine or just in general?
WStyle: Just in general.
AStone: I like anything with an acoustic guitar and a storyline. I think country musicians do it well. But if it was a non-musical thing, I do an acappella version of "The Makings of You" on my album because I just believe when music is in you, you don't really need instruments. You can actually make your voice or your situation an instrument and I've done that as well.
WStyle: If you could do a song with anyone living or gone on, whom would it be?
AStone: I would love to work with Lauryn Hill.
WStyle: Why would that be your choice?
AStone: Because she's very, very….. she's an old soul. She has an old school delivery similar to mine. She really talks about life in general and there's a strength in her quality as a person and as an artist. I think she's awesome and I would love to do a song where it was like we were just having a conversation.
WStyle: Now, I want to turn the page a bit. Other than your musical aspirations, what other dreams do you want to capture?
AStone: Well, there's quite a few things I'd like to capture. I love children so I'd love to one day have a facility. That's a huge dream of mine and I think I'd like to be behind the scenes more. Be more on an executive level in business.
WStyle: I've also heard some things in acting for you as well.
AStone: Oh yeah, I've just finished two movies. I did [the film] "Pastor Brown" and finished [another] movie called "The School Gyrls" that's out this fall with Nick Cannon. I've done countless television shows and I'm really, really excited about some of that work. Plus everyday book offers come in. Different things are coming in. I'd like to do a poetry book and I'd like to do a gospel album one day.

WStyle: I can definitely see you doing a gospel album. For your acting, if you could assume any movie or TV show, what show would you do and what role would you play?
AStone: I think I'd be a great mom, a great teacher or a great leader in any show. I'm a comedian. I think I can be super funny.
WStyle: Now, you've started an agency and doing some things with the Diabetes Foundation. Tell me about that?
AStone: I've worked with the diabetes campaign with Eli Lilly and Company called F.A.C.E., Fearless African-Americans Connected and Empowered. By me being a type II diabetic, I've been going around for the past 2 ½ years educating African Americans about diabetes and better health care.
WStyle: And your agency?
AStone: My glam squad that I created with hair, makeup, styling and photography. I'm trying to present right here an Atlanta based glam squad that will be available to assist with television, film and videos. That's actually going pretty good. One of my hairstylist did Coko's video and is scheduled to do Marcus Allen's video. So it's working out.
WStyle: What has been the most interesting lesson you've learned recently?
AStone: Oh, I've learned lessons all throughout my life but always expect the unexpected. That's the lesson of the day.
WStyle: What can your fans expect or "unexpectedly" find on this album?
AStone: With you listening to the album, you could probably better answer that question. There's something on this album for everyone. A lot of the young people like "Free". A lot of my die hard Angie Stone fans like "Maybe". I think "Hey, Mr. DJ" is going to appeal to radio and the disc jockeys. So there's a diversification in this album that opens it up for everyone.
WStyle: What does Grown Folks Music mean to you?
AStone: Well, I think grown folks music means experience. I think anything you've been exposed to experience. You can't expect a 15-year-old or a 19-year-old to understand a song like "Maybe" that's so intense and gone through a few heartbreaks. You can't compare a first love to the rest of your life. So I think grown folks music speaks to people who've been through the fire and are back again.
WStyle: Angie, I thank you so much for your time….
AStone: I thank you more!
We would like to thank Angie Stone so much for her time. It was truly our pleasure and honor to speak with her. Now make sure you check her album coming out on November 23rd. and check out her new video for her first single, "I Ain't Hearin' You". Signing out!
We would like to thank Angie Stone so much for your time. It was truly our pleasure and honor to speak with her. Now make sure you check her album coming out on November 23rd. and check out her new video for her first single, "I Ain't Hearin' You". Signing out!
WestStyle Chronicles is a music junkie but still scratching her head at people who think Gucci Mane is a better rapper than Jay-Z. J She currently resides in Atlanta where she hopes to someday figure that mystery out. Until then, feel free to follow her adventures.

Follow her on Twitter: www.twitter.com/WSChronicles
Follow her on Facebook: www.facebook.com/WSChronicles
Hope West is a music enthusiast and music photographer who has captured artists like B.B. King, Janet Jackson, Teddy Riley and many others.  A life long lover of music, Hope is a graduate of Full Sail University where she studied music engineering. She's also a proud "Florida Girl" born and raised in Ft. Lauderdale, Fl. and currently resides in Atlanta, GA as a "Georgia Peach". Hope is known for her creativity, sense of humor and quirky perfectionism. Artist(s) that make her freak out as a music fan: Sheila E., Jimmy Jam & Terry Lewis, Quincy Jones.