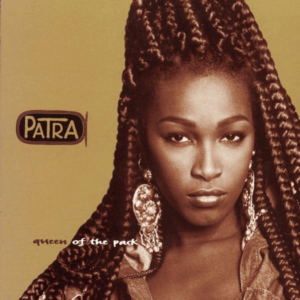 I'm baaaaaaaaack! Sorry for the delay GFM family. I missed YALL!!!! I hope yall missed me too. And now, back to our regularly scheduled programming…
Upon my return, I decided to mix it up and bring a little island reminisce twist to the series this week. "YA MON!" (in my loud Ja-faican voice)
Who could forget those "dookie" braids, her daisy duke shorts and that fierce dancing; slow wind, then tick, then wind, then tick. Aye, didn't she invent the butterfly? (the dance not the "OTHER" butterfly-for the GROWN FOLKS). Moving along…
Born to the world as Dorothy Smith, this Westmoreland/Kingston Jamaica native was introduced to us Yankees Americans when she appeared on Shabba Rank's song "Family Affair".
In 1993, Patra released her solo debut album Queen Of The Pack
and her popular singles, "Think about it", "Romantic Call" featuring Yo-Yo and "Worker Man", reached the top of the charts. Patra became an instant sensation in the states and her album reached #1 on the reggae album charts.
Two years later Patra dropped her sophomore album Scent Of Attraction, which reached #2 on the reggae album charts and #28 on the Billboards R&B/Hip-Hop. The 1st single off the album was her rendition of Grace Jone's Pull up to the Bumper. The single featured the r&b group Guy's front man Aaron Hall and managed to keep the queen on top. Patra went on to release the title track off her album "Scent of Attraction" which did fairly well but not enough to keep her afloat.

Between 1996 and 2003 Patra stepped away from the music scene and later returned with two more albums; The Great Escape
(2003) and "Where I've Been" (2004).
In 2005 Patra became associated with another kind of record. This time there were no studios involved. The artist was arrested by police in Montego Bay and accused of fraud.
According to the Jamaica Star, the singer collected money for work permits and clearances for different artists who wanted to work overseas, but the items were never purchased and/or delivered. She was arrested for the crime and then released on bail.
And that's the last I heard of Patra. I guess she's still on her "Romantic Call" HA!
Despite her fraudulent acts I still am a fan and would like to know where the GYAL is.
Aaaaaaand…
GFM wants to know, where are you? You are missed.
If you got the info, then let us know!
contact [at] grownfolksmusic [dot] com
KayBee (ItiZwutiTizZ)