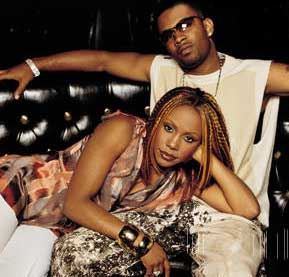 We're proud to introduce this new series from our latest contributor, KayBee. The series will profile artists that we all love and remember but for whatever reason, have been missing from the scene. Check it out and enjoy. Hit her up, leave a comment and show her some love — entertainment.junkiez [at] gmail.com. And, if there's someone you want to see featured, or know more about, please let us know!
As soon as the intro came in, all hands go in the air. "And you don't stop, keep, keepin' on, keepin' on…" Yes, "After the party" was and still is a classic groove that no music/party go-er can resist.
Stepping on the scene, with the intent to clearly make us dance, the New Jersey based duo was formed based on a suggestion by no other than "boss-hog" Clive Davis, formally of Arista Records. The group was then signed to KayGee's, of Naughty by Nature, label and released the popular hit "After the Party" which was also co-produced by Teddy Riley. The neo-soul group, consisting of female, Vernell Sales aka Vee and male artist Fonz, Koffee Brown made noise with the 2001 club banger.
Soon after that, the single "Weekend Thing" was released (which I vaguely remember) from their awaited album "Mars/Venus". Unfortunately, the single and the album failed to make the same noise. But, Koffee Brown is a group that I'm pretty sure most folks are curious about; including us.
So, GFM wants to know, where are you? You are missed.
If you got the info, then let us know!
contact [at] grownfolksmusic.com