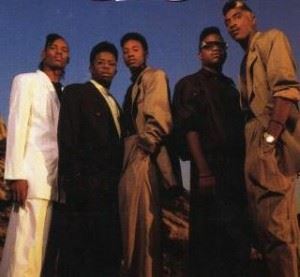 If you remember "Jukebox or The Box" (the music request TV channel) like I do, then you should also remember how much "All I do is think of you" was played. I had the biggest crush on Steve Russell and swore he would sing that song to me one day (clearly I was a young dreamer).
"Total Respect Of Other People" is the acronym for the Cali based group from Pasadena that got their start in the late 80's after winning a talent show.
The group of five, Steve Russell, Allen McNeil, Rodney Benford, John Harreld and Reggie Warren, signed to Atlantic Records and put out their first chart topping song "Mamacita" off their debut album entitled "Troop" in 1988. They later released the sophomore, certified platinum, follow up "Attitude" and gave us the Jackson 5 remake "All I do is think of you" and "Spread my Wings".
These cats, in my opinion, were the one of [the] BEST groups out at that time. Even with comparison to New Edition they still had a very unique style of their own. Troop continued to put out music, releasing 2 more albums in 1994 & 2005, but soon after, decided to individually work on separate projects. As far as recent information, I know Steve Russell is writing and producing for some of today's acts like Chris Brown and Jordan Sparks but the other talented members (shrugging shoulders)…
So, GFM wants to know, where are you? You are missed.
If you got the info, then let us know!
contact [at] grownfolksmusic.com.
Listen to more Troop after the jump.