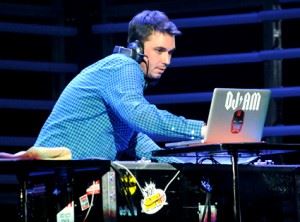 Adam Goldstein, who survived a plane crash with Travis Barker last year, was 36.
As word broke this evening of yet another tragic industry death, celebrities and fans alike expressed their shock and condolences via twitter:
John Mayer: In complete shock.

Lindsay Lohan: i can't believe this.. i'm in shock. why? why? r.i.p. adam.

Alyssa Milano: May you rest in peace, Adam. You touched many with your light and will be missed like crazy.

Ryan Seacrest: So sad the hear about adam. a very kind and generous guy.

Dr. Drew: I lack the words to describe my feelings.

Ashton Kutcher: much love to my boy AM.


Soliel Moon Frye: Thank you for bringing so much music and inspiration to peoples lives. Rip Dj Am.

Heidi Montag: my thoughts and prayers are with DJ AM's family and friends.

Shanna Moakler: My deepest condolences for DJ AM, you were a great artist and will be severely missed. My thoughts and Prayers to his family and friends.

Busta Rhymes: What the f** is really goin' on in the universe??How did he survive a plane crash a couple month's ago 4 him 2 die a couple month's ltr???

Ironically, this was his last message from his twitter account, sent Aug. 25th:

"New york, new york. Big city of dreams, but everything in new york aint always what it seems."


Story from MTV:

DJ AM has reportedly been found dead in his New York City apartment, according to multiple media sources, including TMZ and NBC New York. He was 36.

TMZ, citing a police source, reported that DJ AM (real name: Adam Goldstein) was found in his apartment at 5:20 p.m. ET on Friday afternoon (August 28). Citing "sources," the site also claimed that prescription medication bottles had been found near his body. The site also said that Goldstein had not been seen or heard from in days, and that friends who had previously gone to check on him had received no response. When police broke in the door, they reportedly found Goldstein's body.

A New York Police representative told MTV News on Friday that a 36-year-old white male had been found dead at 210 Lafayette Street in New York but had not yet been identified. Calls to DJ AM's rep for confirmation had not been returned at press time.

The news comes just under a year after Goldstein and Travis Barker survived a plane crash that killed four people. Leaving from Columbia, South Carolina, after a performance by the duo, the small Learjet they were on crashed upon takeoff — giving the two musicians serious burns and leaving them in critical condition.

Born in Philadelphia, Goldstein gained fame as a member of the band Crazy Town, best known for their hit song "Butterfly." He performed on albums with the likes of Madonna, Will Smith and Papa Roach, played in concert with Jay-Z, and made a name for himself on the private club circuit while DJing at private parties for the likes of Ashton Kutcher, Jennifer Lopez and Leonardo DiCaprio. Most recently, he had an exclusive contract with a Las Vegas nightclub, and had continued to collaborate with Barker after the crash.

Before his death, Goldstein had filmed a substance-abuse intervention show with MTV called "Gone Too Far" that aimed to warn young people about the perils of drug abuse. The show was scheduled to premiere in October.

Goldstein was a frequent tabloid target because of his relationships with Mandy Moore and Nicole Richie. He was engaged to Richie but the couple split late in 2005.