Grammy nominated singer-songwriter Raul Midon recently released his 10th studio album, "If You Really Want" on September 14th. The album features Grammy Award winning Dutch ensemble, Metropole Orkest, the largest jazz orchestra in Europe. Metropole Orkest, under the direction of Vince Mendoza complements Midon's vocals alongside some of the most accomplished jazz musicians in the world. Mendoza has previously collaborated with Al Jarreau, Laura Mvula, Snarky Puppy and Elvis Costello.
From the press release:
The album is a wave of transitioning tempo, charming the listener with each new track. A flash of funky staccato precedes an expressive ballad. A jazzy electric guitar solo leads into a soft acoustic strum. If You Really Want displays Raul Midón's unique power to facilitate consistency amongst many different sounds.

Midón wrote the album's title track years ago before moving to New York in pursuit of a career in music. The lyrics channel this time of perseverance and persistence. Midón says, "I really had this song in my back pocket, and I'm glad I found the ideal place for it as the new album's title track." He adds, "it's about the power of positive thinking to fulfill your dreams, as I was able to do by becoming a professional musician, making records and touring the world. Here I am, recording with a great European orchestra. This, like so many things in my career, has been a dream come true."
For example, catch the percussive sounds of "Sunshine" (I Can Fly) and look out for a personal fave, "All Love Is Blind".

Earlier this week, he hosted a workshop showcasing his versatile musicianship at the Union Square Guitar Center which you can check out here.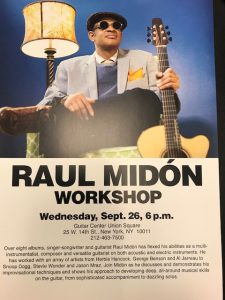 Catch Raul on tour:
Sept 29 – Newark, NJ @ NJPAC
Oct 11 – Largo, MD @ Central Park Performing Arts Center
Oct 12 – Bethesda, MD @ AMP Strathmore
Oct 13 – Rehoboth Beach, DE @ Epworth Rehoboth Beach
Oct 19 – Pleasanton, CA @ Firehouse Arts Center
Oct 21 – San Luis Obispo, CA @ SLO Brew
Nov 1 – Seattle, WA @ Triple Door
Nov 2 – Denver, CO @ Dazzle Jazz
Nov 3 – Albuquerque, NM @ KiMo Theater
Nov 9 – Las Vegas, NV @ Smith Center
Nov 16 – Prescott, AZ @ Yavapai College Performing Center
Nov 17 – Chandler, AZ @ Chandler Center for the Arts
Nov 30 – Edmonton, Alberta @ Yardbird Suite
Dec 1 – Winnipeg, Manitoba @ Berney Theatre
Dec 7 – Wichita, KS @ Grumpy Old Men Fundraiser
Dec 27-30 – NYC @ Jazz Standard
Jan 17 – Fort Lauderdale, FL @ Capital Jazz SuperCruise
Jan 26 – South Bend, IN @ DeBartolo Performing Arts
Feb 2-9 – Fort Lauderdale, FL @ The Smooth Jazz Cruise
Feb 15 – Park Forest, IL @ Freedom Hall
Feb 16 – Des Moines, IA @ Temple Theatre
Feb 23-March 2 – Fort Lauderdale, FL @The Smooth Jazz Cruise
Mar 23 – Freiburg, Germany @ Private Party
Mar 28 – Saint-Martin des Champs, France @ Espace du Roudour
Mar 29 – Bois-Colombes, France @ Salle Jean Renoir
Mar 30 – Brugieres, France @ Le Bascala
Mar 31 – Saint-Arnoult en Yvelines, France @ TBD
Apr 3 – Elyria, OH @ Stocker Center for the Arts
Apr 9 – Boulogne Billancourt, France @ Carre Belle Feuille
Apr 12 – Penmarch, France @ Salle Cap Caval
June 15 – Davie, FL @ Bailey Hall