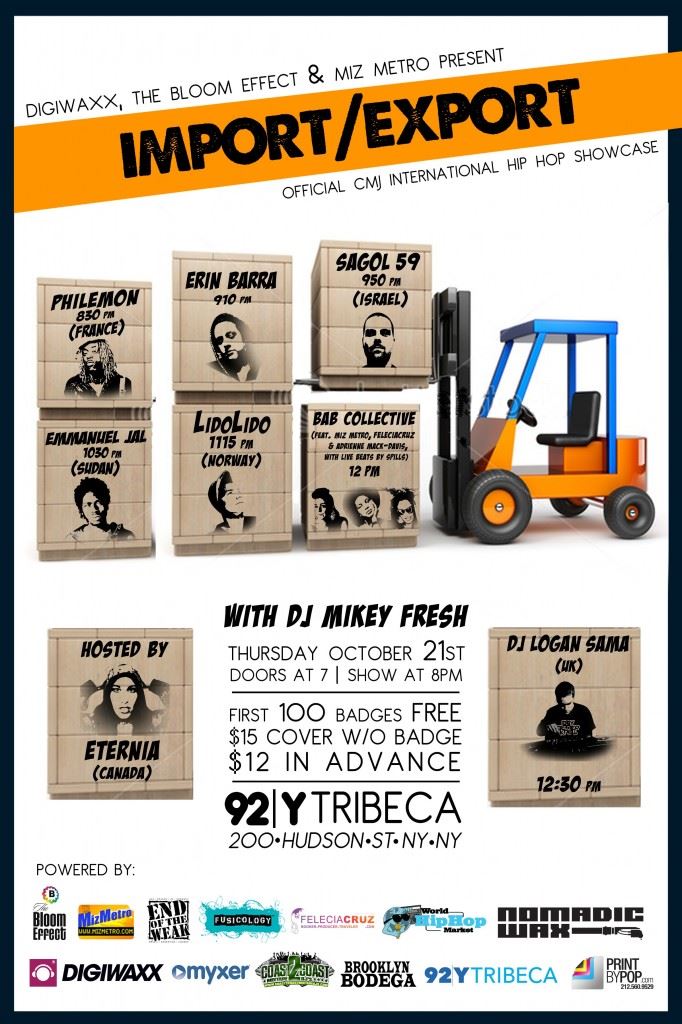 For Immediate Release:
Contact- Fiona Bloom
The Bloom Effect
fiona@thebloomeffect.com October 10, 2010
Global Hip Hop returns to CMJ as Import/Export
The only Intl Rap at the Festival
The Global platform for digital music promotion Digiwaxx has partnered with The Bloom Effect – a full service publicity/marketing/events company along with the multi-media artist Miz Metro for an unforgettable and innovative night of International Hip Hop. The event called Import/Export takes artists from far away places as Sudan, Israel, France, Norway, UK into a comfortable setting whilst providing a vehicle and platform for exposure and discovery on a NY stage. These are U.S debuts for most of the artists.
The event takes place at 92YTribeca. 200 Hudson St- Downtown Tribeca on Thursday October 21st 2010. The show will begin at 8 PM and will last until 3 AM and will feature live international hip-hop music and DJs spinning music hosted by Eternia who is receiving a fair amount of buzz and critical acclaim for her latest project on Fat Beats. She's been back and forth from Toronto and NY most recently making NY her home and traveling around the world.

The College Music Journal Marathon (CMJ) is New York's largest music, film and media conference and will host hundreds of live performances, films, lectures and networking events. "CMJ is a perfect place for a global hip-hop event like this" said The Bloom Effect CEO, Fiona Bloom. "An event that unites MCs from a variety of backgrounds, countries and nationalities is exactly the kind of event that we want to be promoting at a global music conference like CMJ. I'm still baffled that we're the only showcase of its kind. As big as the movement's growing- 1 Intl Hip Hop showcase doesn't really give it the attention it deserves but we promise to deliver a night of historic measures".
"We were looking for something fresh and Global to attach ourselves to and this Import/Export opportunity was the perfect event. We're extra excited because we'll be distributing a very special compilation mixtape just for this show! Limited edition." Founder Corey Llewellyn states.

In addition to the mix CD – Myxer is also hosting a special ringtone download mixtape- one of first of its kind delivered through its mobile platform free of charge throughout the CMJ week.
DJ Mikey Fresh is mixing both the Myxer and Digiwaxx CD.
This years event will feature a handful of rising stars hosted by Canada's sensation Eternia. Emmanuel Jal from Sudan, Philemon from France, Sagol 59 from Israel, Erin Barra from NY, BAB Collective(Debut) LidoLido from Norway and a grime set from UK's DJ Logan Sama.
"It's incredible to see such diversity in an event like this" said Eternia. "To have artists from all over the world performing on the same stage together shows how global and powerful hip-hop culture has become, plus, I follow 2 other amazing hosts from the previous shows so I'm honored. Both Pharoahe Monch and Blitz The Ambassador are amazing company to be in".
This year's event is powered by: Fusicology, Myxer, Coast2Coast, Brooklyn Bodega, Digiwaxx, The Bloom Effect, Popular Printing, feleciacruz, End of the Weak, World Hip Hop Market, and Nomadic Wax.
Eternia http://www.myspace.com/eternia
Emmanuel Jal 10:30PM
Philemon http://www.myspace.com/philemonline 8:30PM
LidoLido http://www.myspace.com/lidolidomusic 11:15PM
DJ Logan Sama http://www.youtube.com/keepinitgrimy 12:30am
Sagol 59 http://www.myspace.com/sagol59 9:50PM
Erin Barra http://www.erinbarra.com 9:10PM
Bab Collective- ft Miz Metro, Adrienne Mack-Davis and feleciacruz (Debut) 12am
Thursday, October 21st
7PM Doors
8PM Show
$15.00 at door
$12.00 in advance
First 100 CMJ Badges FREE
Interviews, media opps, photo/video- please contact Fiona Bloom up!

Ivan Orr is a multi-instrumentalist, composer, performer, and writer. A native of Charlottesville, Virginia Ivan was involved with the forming and nascent days of The Music Resource Center as its first Program Director. A graduate of Virginia Commonwealth University's Department of Music, Ivan currently resides in Richmond, VA where he maintains an active performance and production schedule while serving as the Music Editor for Grown Folks Music, a position he has held since 2010.