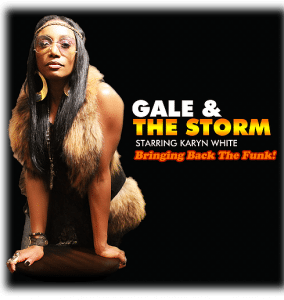 Grown Folks Music chopped it up with Karyn White and she generously spoke to us about why she took nearly an 18-year hiatus from the music business, the music business itself and her second chapter in the game which includes acting on television and in film. See Karyn White in BET Centric's show, Beauty And The Baller and the upcoming film Gale & The Storm, which White wrote and produced herself along with Derrick Muhummad. Check out the movie trailer for Gale & The Storm.
Find out even more about the film here.
Listen to "Blind Man Walking" from the Gale & The Storm Soundtrack
Read an excerpt from our Spotlight Interview with Karyn White:
GFM: People have been asking where you are. They don't realize that you've been away from the spotlight for a reason. Tell the Grown Folks why they haven't seen you.
Karyn White: It's been while, actually. I stepped away from the business and it wound up being 18 years before I came back and put out anything. I was going through a really dark period in my life. My mom passed. I got a divorce from super producer Terry Lewis. My father passed. I really went into a really dark depression. At the time I didn't realize that's what it was, because I've been very much a driven person all my life. I knew I wanted to sing in elementary [school]. I went to school with Wendy Robinson from The Game– the actress– and she'll tell you I was a promoter in elementary. Everybody knew me. I was Karyn WHITE back then. I wanted to sing and put together groups. I was a track star. I competed with boys playing tetherball and basketball. I was this really outgoing person. Being in LA I really feel like I started very young. I found out one thing about myself. I was very successful at putting together a goal and a plan and achieving that plan. I was really great at that, but what happened was that carried on into my life. I had success and then I realized I didn't like the person I was becoming with the success. You would've thought it would've been different, right? You get everything that you've worked so hard [for]… [a] beautiful husband, family, career… to be unhappy with yourself. I was taking a lot of my blessings for granted. I really stepped back, because once I started seeing things spiral out of control  and I was becoming who I said I didn't ever wanna be, I said, 'I need to work on Karyn.' I know how to win at a project. I know how to have a goal, but my spiritual… who I was becoming as a person… I wasn't proud of. That's why you guys didn't hear from me. I didn't wanna be seen [laughs].
Press play to hear the rest:
Follow Karyn White:
On Facebook
On Twitter