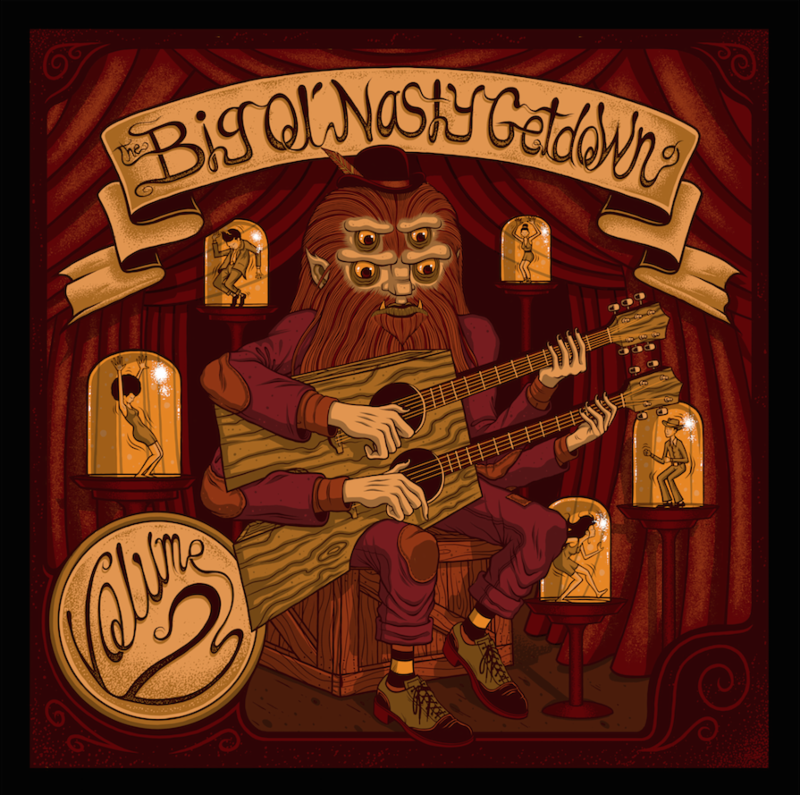 When I asked John Heintz of The Big Ol' Nasty Getdown how he was able to bring together more than 50 musicians to make an album his response "It was kind of the law of attraction in a lot of ways." is very telling. Not only has John benefited from the law of attraction but I'd also venture to say that multiplicity has been at play as John states "As more people got involved it turned into, I want to play with that person…". I became aware of the work John was doing back on Volume 1 and have been a fan ever since.
Starting at around 7 or 8 with asking his parents for a guitar was the beginning of John's love affair with music. A forecast of things to come would occur when John asked for a bass near the end of elementary school."I was pretty involved in music from about 7 or 8 until about 16 or 17 when I pretty much walked away from music altogether in terms of playing it." Coming from a background where the creative arts were not highly celebrated John made the decision to hunker down and focus on areas that aligned more with what his parents wanted. Fast forward a little over a decade and John was presented with an epiphany that music was the world for him. "I had no idea what was about to happen." John states. "It looked more like I would be buying and selling guitars on Ebay." is how John describes how he initially thought his foray into the music biz would play out.
"When I got back into music it was really about collecting the instruments of players I truly admired. Instruments with a lot of stage use." An invitation to a festival just outside of Ft. Lauderdale in '07 set off a series of events which lead John to end up on a national tour with a festival band seemingly out of nowhere. "No one knows who you are, you're not playing…" [These are the words of John's girlfriend at the time]. This is her reaction to John's desire to leave the fun and frolic of the festival they were attending (with all-access passes I might add) to make a few hours round trip drive to get his bass. Eventually what happens is this decision leads to a meeting with Alvin Cordy Jr. bassist and musical director of The Lee Boys who agrees to play John's bass for a few tunes during their set(which if you know the work of Alvin Cordy Jr. he plays a 7-string bass and John's bass is a 4-string.) After a series of what I often refer to as musician mishaps what follows was the real world type of internship of learning the business from the ground up for John out on the road with The Lee Boys.
What happens next, in essence, is the opening of a new path and the ability not to return to the "real world" by listening to the universe. John gives us insight into his motivation by stating "The idea that I was doing something not because of economic standing but the idea of doing something that I felt." A passion play if you will(pun intended). This is the genesis of The Big Ol' Nasty Getdown. The look and the sound of which John illuminates as "We're just going for it. Nothing pre-rehearsed, just this magical interaction… this is the thing that's so hard to replicate in the studio setting. What if we staged something similar to this where we have a week where people are hanging out together writing music almost like a family vacation to some degree." And what a family!
On Volume 2 the family consists of: Vernon Reid (Living Colour,) Larry Dunn (Earth, Wind and Fire,) Fred Wesley (James Brown, Horny Horns), Karl Denson (The Rolling Stones, Tiny Universe,) Michael Ray and Clifford Adams (Kool and the Gang,) RonKat Spearman (Katdelic, Parliament-Funkadelic), Alvin Ford Jr. (Dumpstaphunk), Norwood Fisher, Angelo Moore, Dirty Walt (Fishbone), and Ivan Neville (Dumpstaphunk, The Funky Meters), just to name a few. This time around the locale for recording was Asheville, NC(Volume 1 was recorded in New Orleans) in a massive cabin in the woods. The groundwork for the assembly of such a stellar cast was laid in those early days on the road with The Lee Boys that predate Volume 1. "I started just asking different people along the way. One of the nice things of being out on the road with The Lee Boys is that they are such elevated players they attract so many different elevated players who want to sit in with them.
This would bring all of these folks into my universe and coming from a business background I understand that your network is critical."
This is the fuel that this entire industry runs off: relationships. It's all about your network and what I was struck by in interviewing John is how this incredible project has been an incubator for relationship fostering and what we like to deem here at GFM as one of our major tenets "Bridging The Gap". Fabulous stories that John shared about the exchange between veteran artists and younger artists of learning techniques old and new alike from one another. This is how we ensure the music lives on. This is "Bridging The Gap".
When John was knocking around the idea of The Big Ol' Nasty Getdown he was met with a fair amount of the type of sentiment that goes like "How are you going to herd cattle, basically." One way and one of the best ways of getting and keeping anything of the ground is partnership. "Everybody seemed interested, but touring schedules being what they are, it was an uphill battle. I asked Derrick Johnson and John Paul Miller from Yo' Mama's Big Fat Booty Band if they'd help me organize a collaborative project and they came on board. We started calling every musician we knew including Frank Mapstone, a knowledgeable producer and musician from FL. Frank and I clicked instantly and it was apparent that he was the most versed in the studio environment. Frank ultimately became my production partner with the Getdown. We have worked side by side for the last decade on this project."
#Growns this is the type of project that we hear your lament when you state "They don't make music like they used to anymore…" In fact this is actual a step beyond because this involves masterful musicians many of whom have never played together, creating music on the spot, tapping into improvisation and genius musicianship. This project is often a showcase for seeing musicians in a different light than you may have seen them in before. A labor of love I'll say. John and his team recently wrapped a Kickstarter Campaign that ran for a little over a month. This Funk Supergroup is brought to you by the tireless efforts of John, Frank and their entire team. On January 12, 2018 Volume 2 of The Big Ol' Nasty Getdown drops. We'd love for a big ol show of love and support from the Grown Folks Music Family.
Follow The Big Ol' Nasty Getdown:
Website: www.thebigolnastygetdown.com
Facebook: www.facebook.com/thebigolnastygetdown
Twitter: www.twitter.com/thebigolnasty
Instagram: www.instagram.com/bigolnastygetdown
Tracklisting
01. Rock It (Featuring Speech)
02. Love Somebody (Featuring Laura Reed)
03. Groovy Nasty (Featuring RonKat Spearman)
04. Mantra (Featuring Kendra Foster and Speech)
05. B4U Loved Me (Featuring Rev Desmond D'Angelo)
06. Dream (Featuring Taylor Dayne)
07. Past Present Future
08. Words (Featuring Laura Reed)
09. Creatures of Habit (Featuring Angelo Moore)
10. Rock It (Instrumental)
11. Love Somebody (Instrumental)
12. Groovy Nasty (Instrumental)
13. Mantra (Instrumental)
14. Creatures of Habit (Instrumental)
Ivan Orr is a multi-instrumentalist, composer, performer, and writer. A native of Charlottesville, Virginia Ivan was involved with the forming and nascent days of The Music Resource Center as its first Program Director. A graduate of Virginia Commonwealth University's Department of Music, Ivan currently resides in Richmond, VA where he maintains an active performance and production schedule while serving as the Music Editor for Grown Folks Music, a position he has held since 2010.