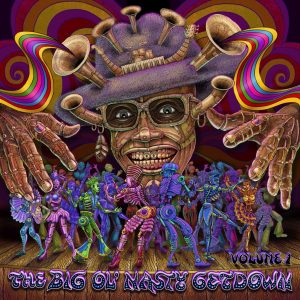 What do you get when you combine great musicianship, an affinity for the funk, lots o' horns, guitars, heavy funky bass, tasty keys and an infectious multi-layered percussive groove fronted by a rotating cast of maestros and mistresses well-versed in funkdom (we can count George Clinton among that number no less!)? We get the labor of love embodied in the form of The Big Ol' Nasty Getdown Volume 1. due out May 22, 2012. The Getdown was created by John Heintz (Bass/Producer/Founder), John-Paul Miller (multi instrumentalist/producer), & Derrick Johnson (multi instrumentalist and features the aforementioned George Clinton, as well as members of several well know funk bands including members of P-Funk, Blackalicious, Graham Central Station, the Dirty Dozen Brass Band, Dumpstaphunk, Galactic, Warren Haynes Band, Derek Trucks Band, The Lee Boys, Sun Ra Arkestra, Yo Mama's Big Fat Booty Band, Kool and the Gang and Fishbone, to name a few. The band has a rotating line up of roughly 90 musicians from 50 touring bands. Yes I had to put an emphasis on the collective, the coming together, the oneness because often the beauty of this gift that we have been given called music.
The set clocks in just under an hour and begins in big fashion (with an almost beckoning call from the horn section) and unfolds more like a live experience than a recording. Standout tracks from the release for me are "The Beauty of Pretty", "Room 2012" and the single that has been giving the project some well deserved buzz "College Funk". It is always a pleasurable experience for me when I have an opportunity to review projects that are so much more than "We made some cool new music, wanna buy it?" type projects. What is contained herein The Big Ol' Nasty Getdown Volume 1. is just as much a social and cultural movement as it is a musical one. A tip of the hat and kudos to all involved because the message is clear that the music here is the fuel for the movement.
From the press release
Born out of a love for an art form that paved the foundation for three decades of popular music, The Big Ol' Nasty Getdown is a star-studded tribute to the history of American Funk and authentically touches on almost every style of music. The Getdown was created by John Heintz (Bass/Producer/Founder), John-Paul Miller (multi instrumentalist/producer), & Derrick Johnson (multi instrumentalist). Getdown saw its earliest incarnation more than four years ago at a New Orleans gathering that would soon go down in history. What began as an all-star meeting of the minds in the Crescent City quickly gave rise to a collective of musicians working tirelessly to remind the music industry of why funk was such an important part of the American cultural evolution.
Drawing from a reserve of more than one hundred musicians, The Big Ol' Nasty Getdown has created an avenue for some of the genre's most influential figures to share the stage with its future stars. Showcasing recorded and live appearances from many of funk's luminaries and legends – notably George Clinton, Norwood Fisher, Belita Woods, Sidney Barnes, Gift of Gab, Kendra Foster, Patryce "Choc'let" Banks as well as grammy winning artists Kofi Burbridge and Agent 23 Skidoo – The Big Ol' Nasty Getdown is quickly generating an international reputation for producing some of the heaviest grooves heard in years.
Those interested in experiencing The Getdown's Earth-shaking pocket need look no further than their up coming release Volume 1. Drawing upon the aforementioned heavyweights as well as members of Galactic, The Dirty Dozen Brass Band, Dumpstaphunk, Yo Mama's Big Fat Booty Band and many more, the gang has assembled eleven unforgettable tracks over a number of sessions that took them all across the country. The result is a generous hour-long listen that has earned the praise of funk fans the world over.
The collective has received no shortage of critical attention either, their single, "College Funk" recently pulled down Funk/Groove Song of the year at the 2011 Hollywood Music in Media Awards.
After making such a huge splash in such a short time, it should come as no surprise that the Big Ol' Nasty Getdown is already hard at work on the next step of their collective journey. Discussions for some dates both on US soil as well as abroad are underway for 2012. There are also rumors that a line-up for Volume 2 is starting to come together and will likely add another forty musicians from roughly thirty major bands to the already massive roster.
Ivan Orr is a multi-instrumentalist, composer, performer, and writer. A native of Charlottesville, Virginia Ivan was involved with the forming and nascent days of The Music Resource Center as its first Program Director. A graduate of Virginia Commonwealth University's Department of Music, Ivan currently resides in Richmond, VA where he maintains an active performance and production schedule while serving as the Music Editor for Grown Folks Music, a position he has held since 2010.