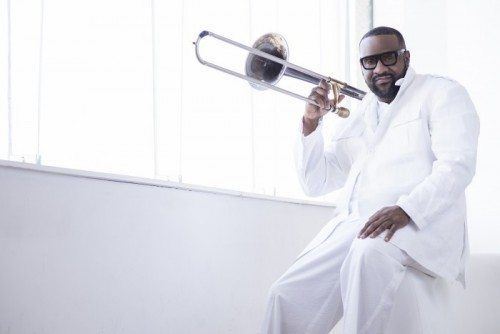 Grown Folks Music caught up with Mr. Trombone (fellow Philly native Jill Scott gave him that moniker) Jeff Bradshaw. Mr. Bradshaw talked with us about his new live album– Home: One Special Night At The Kimmel Center, his mission to make the trombone cool at an early age, what Grown Folks Music is and why he's such a natty dresser. Read and enjoy.
GFM: Let's talk about this forthcoming project. You have a lot of heavy hitters involved with this project. Tell us about the album and how you got all of those people to do the recording at one time.

JB: This is my third album. Bone Deep being my first, Bone Appetit in 2012 being my second record. This is my third album and people always said… fans, friends, family always said, "Man we love your music. We love your recording (but there's) something about hearing you live. We really, really get you." That's when I felt like it was probably necessary this time to bring back the concept of bringing live music back into people's homes and recording a live album. So, I just enlisted and put in a call into all my friends. That's who's on the record– peers, friends (and) artists that I'm a fan of… artists of music that I own… music that most of us have bought and purchased and enjoyed over the years. It was a blessing to be able to have peers and friends be part of a journey of a trombonist taking music to the mainstream. So, I got together with Jay Wahl, the creative director at the Kimmel Center, which is one of our premier symphony halls here in Philadelphia, and recorded this amazing, one-night only, live recording in front of a sold-out audience in that sacred building.
GFM: You've got some pretty cool friends. Name some of the friends that you have on this album. I know, but tell the Grown Folks some of these cool friends and peers that you have on this album.
JB: (laughs) It's really cool to have these specific artists that I have on this album. I have Robert Glasper, who is the executive producer. (I have) Eric Roberson, I brought Tweet back, who I'm a great fan of, Marsha Ambrosius, Kim Burrell, Trombone Shorty, Black Thought from The Legendary Roots Crew from Philadelphia, Take 6, Bilal, Kenny Lattimore, Najee and Will Downing. I think we're gonna get it done. (laughs) It's like a menu. It's like when you go to a restaurant, open the menu and all your favorite food is all that's listed on the menu. It's such a masterful, amazing project.
GFM: Talk about the Philly soul legacy and what it means to be a part of it and also what it means it to be a part of the Philly neo-soul movement as well.

JB: The blessing was being born and raised in Philadelphia… just being bred in this rich soil of Philadelphia soul history. All the way back to jazz– to Coltrane and Bobby Durham and all the great cats that we had (like) Philly Joe Jones. I could talk about all the great Philly legends in jazz, but also the Gamble and Huff Sound of Philadelphia– that legendary movement that is still legendary and still one of the great breaking ground in Philadelphia as far as our soul and R&B history. Then you have everybody that came after that. You have Boyz II Men, Jazzy Jeff and the Fresh Prince and Patti LaBelle. There's so many artists that came out of Philadelphia. (Also) The Legendary Roots Crew. From R&B to Hip-Hop… not just soul music. But, also Hip-Hop as well and jazz. So, to make my contribution to the Philly soul-jazz legacy is an honor. To grow up and be a fan of all of these great artists it's just an honor to be able to record music and to say I'm from Philadelphia… to record great music with great features, great arrangements and compositions and (to) really put together some records and also (be) trailblazing with the trombone… do some things that haven't been done. It's an honor to be from here. It's an honor to have been bred in this Sound of Philadelphia soil. It's an honor to carry on this legacy which I hold as a great responsibility.
GFM: You mentioned the trombone. There's a cool story behind how you came to play the trombone. Can you tell us that?
JB: (laughs) Well, outside of being born and raised in church, which was the first place that I experienced the horn… being born and raised in the United House of Prayer For All People, a church that the main focus of the music ministry is the brass… gospel brass bands… I was surrounded by it. My father played it. He was the coolest cat ever, Norman Bradshaw, who I lost a few years ago.
In school, (on) the first day of music class they had all of the music instruments laid out all around the floor. They told everybody in the class to stand in front of the instrument that they were interested in playing. Everybody stood around the drums, piano, the bass, the saxophone and all these instruments that were quite popular. There was a stack of trombones in the corner by themselves. I felt like because my father played it, because I was born around it in the church, and was mesmerized by it because my father played it… I've always been kinda a guy who did his own thing. I never followed trends. I've always been a trend setter… so, I felt like I will play this instrument and like I said if my father played it, it was definitely cool, because he was the coolest cat I've ever known. He introduced me to James Brown and all of the funk bands of the past. I got to know Fred Wesley. I heard jazz records with J.J. Johnson and Curtis Fuller and Slide Hampton. I stood by the trombones because that was an instrument that I felt like I was going to continue to make cool for my generation. I knew that this instrument was already cool, because 1. my father played it and 2. because Fred Wesley from the JBs played it and J.J. Johnson played it. Slide Hampton and Curtis Fuller and all these great, legendary, jazz artists played this instrument. I just wanted to continue to make the trombone cool and carry on the legacy and bring it to my generation and the generation beyond me.
GFM: We were talking about the who's who list on this current album with the features, but is there anyone on your wish list who want to work with. Is there a dream collaboration for you?
JB: Yes, Prince. I would love to work Prince. If I had to say one name, because I've already recorded with Michael Jackson (and) I've already recorded with Earth Wind and Fire. James Brown is gone now. So, if I had to say one name of an artist that I would want to work with, it would definitely be Prince.
GFM: What is your definition of Grown Folks Music?
JB: Hmmm… Grown Folks Music is just music with lyrical integrity and a simple, but brilliant tag of musicianship. A very simple, brilliant tag of musicianship— that's what it is. It just feels good. It doesn't have to be over arranged. Grown folks love lyrical content that makes sense. (They like) great storytelling, life experiences and most of the time Grown Folks Music has a very simple beat and a groove that makes sense. You don't have to be a musical scholar to enjoy Grown Folks Music. Grown Folks Music just feels good and if it feels good, then most of the time grown folks are gonna love it, so that's what I try to make.
GFM: You mentioned trendsetting. I noticed on your social media (accounts/pages) that you like to dress.

JB: That's the grown thing is us. That's the grown thing about us. I dress that way because if you look at the '50s, '60s and '70s… look at how we dressed. Look at clips of Marvin Gaye, Smokey Robinson and Sam Cooke. If you look at these people and how they dressed… how these legends dressed… they dressed like grown men. Grown men dress a certain way and they attract a certain kind of listener. They attract a certain kind of music enthusiast and grown folks. My father was that way. I dress that way because that's who I am. I'm a grown man. I'm a father. I'm a lover of God and I'm a lover of this great music that I hold so dear to my heart.
Jeff Bradshaw's new album: Jeff Bradshaw & Friends: Home: One Special Night At The Kimmel Center is available now. Get it at iTunes and Amazon.com
Connect with Jeff Bradshaw:
On Twitter
On Facebook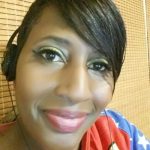 I ask questions of your some of your favorite artists.